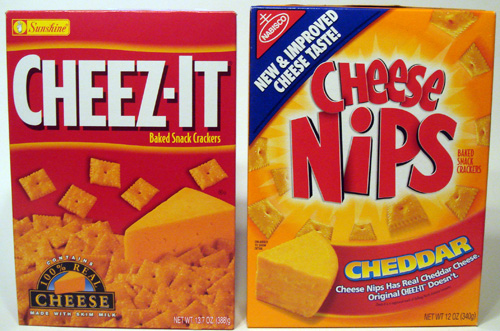 Cheez-Its are one of my all-time favorite snacks. For some reason they go really well with Tab.  I thought it was just me but I had some people try the Tab with Cheez-its once and they agreed.  I don't know what it is but I don't care.  Cheez-Its of course do mighty fine on their own too and that's why I love them so much.  I've tried other brands but they're just not the same.  For this evaluation, I got the arch enemy of Cheez-Its: Cheese Nips.  In this evaluation we had the help of pur friends Marc and Sara.
Cheez-It: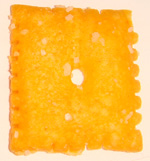 One comment was that these have a toasty cheese flavor.  We all felt the saltiness was just right and they have a good crunch to them.  I usually like to let these sit in my mouth for a little bit and suck off the salt and then let the "it" soften up and then that's when I take a swig of Tab (so good!).  We all agreed these had a very satisfying cheese flavor and a nice crunchy (one person thought somewhat buttery as well) texture. 
Cheese Nips:

Cheese Nips were visually different in that they seemed to have less texture, like a saltine.  There isn't the salt presence that Cheez-it has, although some did have a few smaller granules of salt on them.  We agreed these lacked the same full-bodied cheese flavor and almost resembled an oyster cracker with a little bit of cheese flavor.  Also, these were a little dryer than Cheez-Its and didn't soften in my mouth the way Cheez-its do.
Wrap up:
Cheez-It all the way from all 4 of us.  Although Cheese Nips claim they have real Cheddar cheese in them and Cheez-It's don't, I guess whatever Cheez-It is doing is right (to us anyway) because we enjoyed these much more.   I know this is kind of touchy because people seem to get upset over these dueling cheese crackers.  I mentioned I was going to compare these to the intern at work (way back earlier this month when I had a job) and she felt very strongly about Cheese Nips and how disgusting Cheez-Its were, almost like she thought people who favored Cheez-Its also ate dog food.   It was very strange. I've seen other people feel the same way about Cheese Nips, so in case anything like that starts here kids, remember to keep it civil  ?


 Loading ...