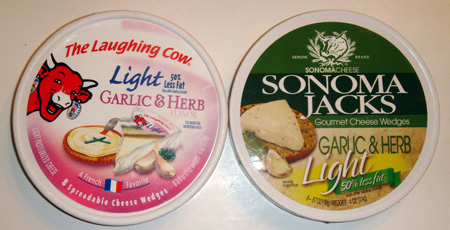 I'm a fan of Laughing Cow light. I usually get their original Swiss flavor but at the Christmas Tree Shop I saw a brand called Sonoma Jacks that is the same concept but in the Garlic & Herb flavor.  I was happy to see this because as you may have noticed material has been hard to come by, so hooray, a decent looking challenge!
Laughing Cow: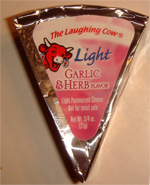 In a nice, neat foil-wrapped wedge we have a 3/4 oz. of processed cheese goodness.  We found this to be very creamy smooth and very flavorful.  We also liked the slight tanginess and felt it provided a full-flavor cheese taste.
Sonoma Jacks: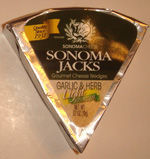 These are a wider and flatter wedge and a slightly smaller .67 oz.
Ethan felt this was more oniony. I felt like it was more herby…almost too herby.
Ethan also said it tasted too "ripe".  I feel like it was too much herb and the cheese was just a tasteless vehicle for the garlic and herb.
 
 
Wrap up:
We liked Laughing Cow's pleasant balance of cheese taste and flavorful herbiness.  The emptiness of of Sonoma Just left a lacking cheese experience.

 Loading ...