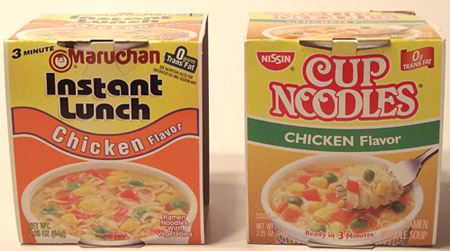 Ramen noodles are one of those things that has so many versions of I could make a site just about them, and in fact there are a bunch out there. But I chose two that are regularly found in average American  grocery stores and mini marts.
It's funny how these were a snack in highschool and a meal in college.  I have not paid Ramen a visit in a long time so one night I sat down with Ethan, Sarah and Marc and we evaluated.
Instant Lunch: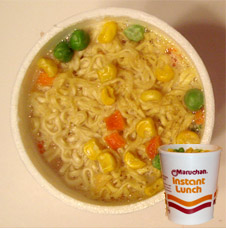 As all four of us tasted this we noticed that the noodles were pretty flavorless, like cardboard.  The broth was pretty decent but the vegetables were duds.  Sarah said the corn wasn't "corny" tasting and she didn't like the mushy peas.  I never really expect much of the vegetables in these things, only that they at least resemble what they once were, and they barely did that.  We all agreed that the broth just didn't make up for the bland, paper-flavored noodles.
Cup Noodles: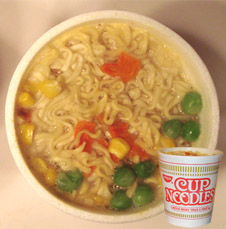 This unsurprisingly looked similar to Instant Lunch but we found the broth was not as salty.  The noodles looked deceivingly underdone but had a great texture and a nice buttery taste.  The vegetables in this were not quite as sad and held up to the re-hydration better. We all agreed that the noodles are what make these and found ourselves enjoying this more.
Wrap up:


I wanted to like Instant Lunch more because I've always like their packaging.  The colors, font and design are so pleasant. And their logo looks like my brother-in-law, Zac.  But Cup Noodles really were the better noodle of the two and since it's the main ingredient (besides sodium) I agreed with everyone that Cup Noodles won this round.


 Loading ...