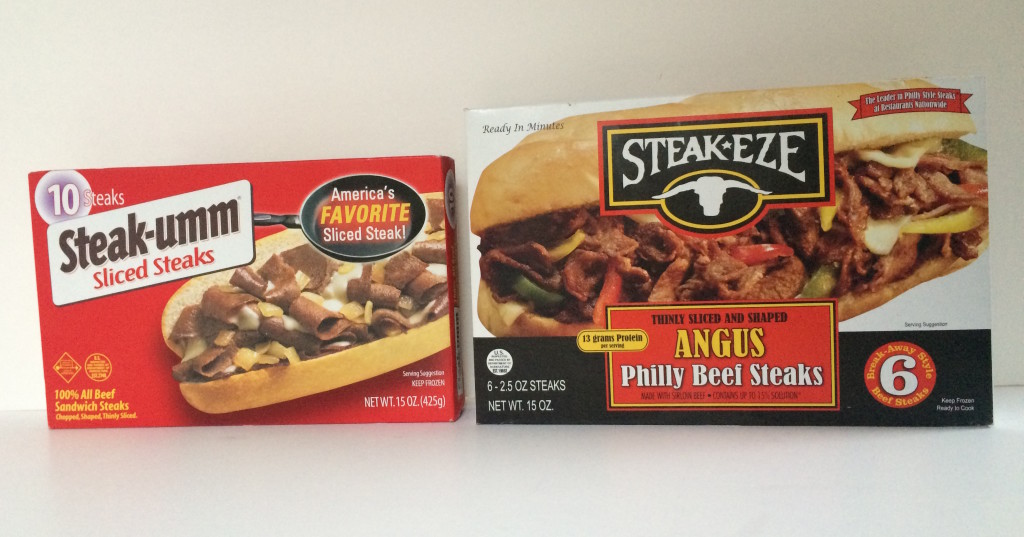 Steak-umm used to be one of my sister and I's favorite after school snack.  We'd just cook these up and eat them as-is, no bread or cheese, just some Lawry's seasoned salt – and so easy a pair of fifth graders can make them!  I recently saw Steak-Eze in the frozen food section at the store and just had to see if they were comparable to the only quick-cook-pan-fry-freezer-steak I've ever really known.
Steak-Eze: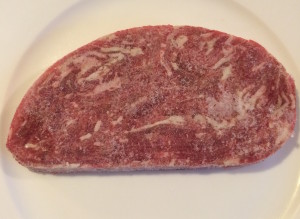 I was surprised that this product was so unlike Steak-umm's shape in the way that it's rounded and about 1/2″ thick.  The directions are to cook about a minute on either side and then "lightly chop" with a spatula.  We added a little seasoned salt and swiss cheese.  Some of the notes we took included "not terrible", "not a lot of flavor" and "I guess it's juicy".  Really not overly impressive but I guess to be fair it might be to par with something you would get a mediocre diner.
Steak-umm: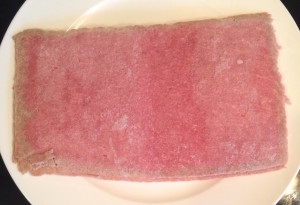 Steak-umm, it's been a long time my old friend.  For anyone who is unfamiliar, Steak-umm is basically  two wafer-thin sheets of "steak" that cook up in about a minute. Like with Steak-Eze, we cooked these with a little Lawry's and swiss cheese.  Ethan thought these were "so bland, they're offensive", and "gross".  I also found these bland, but not quite offensive, although they did seem greasier.  These really are just a vehicle for seasoned salt and cheese.  The texture is something that I would recommend for anyone with any  sensitive dental work as the steak-umm is so mushy and soft that you really don't need to use your teeth all that much.
Wrap up:
Steak-umm-yeah-no.  While we both have a nostalgic loyalty to Steak-umm,  it was really just much less enjoyable(?) than Steak-Eze.  Ethan only had a few bites of his Steak-umm but ate the whole Steak-Eze.  I did feel like I could get into Steak-umm  if I had to,  more so than Ethan but since I didn't have to, I didn't finish he umm either.  We both agree that incorporating melted cheese with both of these is mandatory and seasoned salt is highly recommended. Really, both of these are not something we'd ever buy again, but if given a choice we'd go with Steak-Eze.

 Loading ...