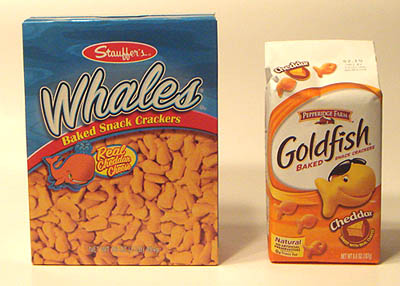 To make a long story short, Ethan and I found ourselves shamefully at Wal*Mart tonight.
I won't get into how I disagree with their business practices but we just went and figured while looking for what we needed, it may be a great source for second rate snacks.
We got some good ones, but the most impressive product we found was Stauffer's Whales.  Of course we were compelled to try them so they made it into the basket and after waiting 20 minutes in the check-out line, we brought them home to test.
First up…
Whales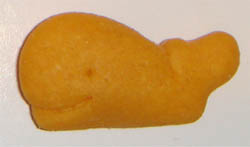 These crackers were a little larger than Goldfish, (much like how real whales are bigger than real goldfish!) the first thing I noticed when I put one in my mouth was the nice salt-to-cracker ratio.  I like to just move the cracker around in my mouth and take in any cheddar flavor before chewing, and did get some flavor.  Ethan felt that although they didn't really taste like cheddar, they were good.
I felt the flavor in general was pretty good but something about the texture seemed dense or stale or missing a certain crunch but Ethan thought the texture was fine, so maybe it was just  me.
Goldfish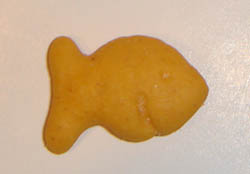 Next was our childhood classic, Goldfish.  These actually seemed pale in flavor after the Whales.  We agreed they were lacking any real cheddar flavor and actually tasted more like a saltine.  Even the salt didn't seem as good on these.  It's saving grace was the texture which was a little more crunchy and didn't seem as mushy after chewing.
Wrap up:
It was a big surprise that we found ourselves enjoying the Whales more than the Goldfish, BUT you *might* say they cheated, since they do include MSG in their ingredient list and Goldfish doesn't.
Since we haven't seen these before tonight I'm not sure many other people have but I'll ask anyway.

 Loading ...