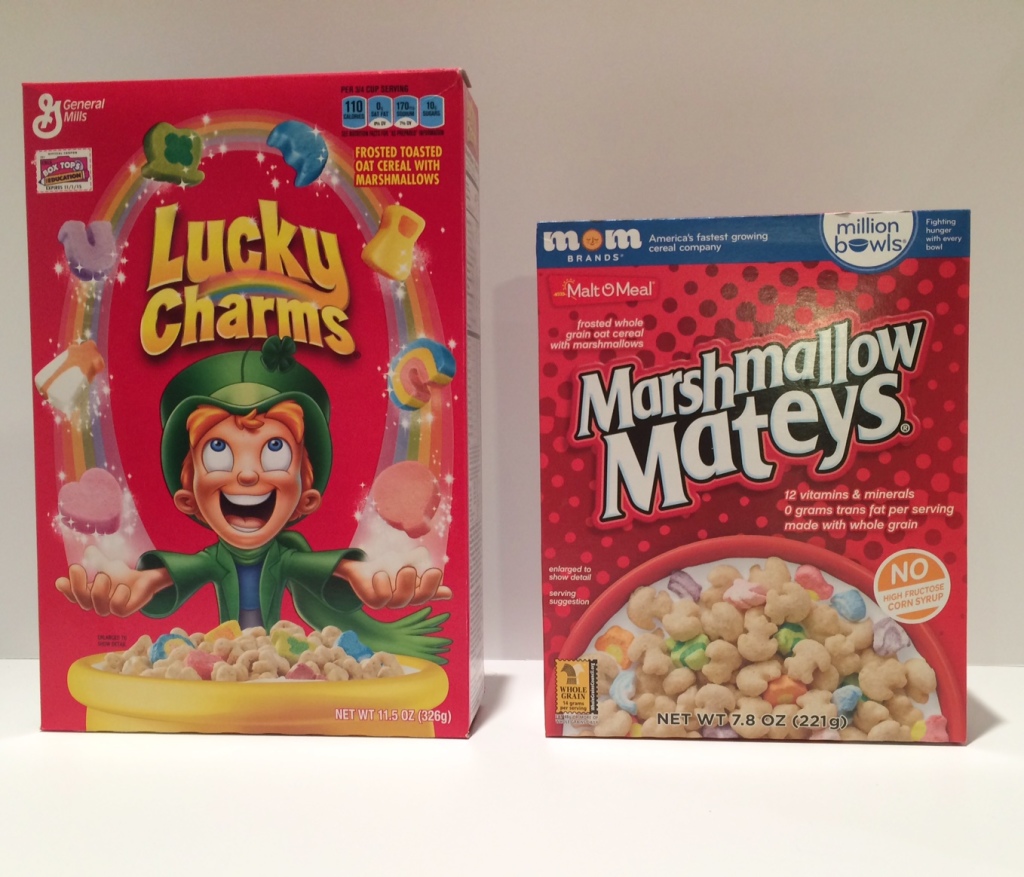 Lucky Charms was never allowed in our house  when I was a kid so I don't have a huge history with it other than the few times I got to indulge at my friend's house when I slept over.  That was how the other half lived!  Staying up past 9:00pm, drinking soda, eating oreos, Twinkies and Fun Dip all night, then waking up to forbidden sugary goodness of Lucky Charms or Pop Tarts…or both– anything went over there!
Bringing it back to 2014, Ethan and I tried Lucky Charms and it's challenger, Marshmallow Mateys .  It seems like Mateys wanted to go a different route, avoiding any reference to being lucky or Irish or folklorey and went a different route with a nautical theme.
Lucky Charms: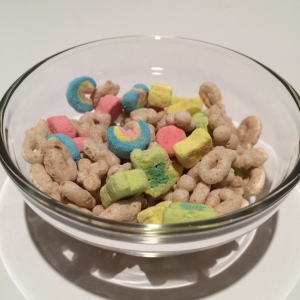 I knew some of the marshmallows only from the commercials from years ago but they've updated and added some that I don't know.  I think it was purple horseshoes that was the new addition last I noticed, I wasn't even sure what some of the shapes were supposed to be.  I felt like the cereal part was very crispy and tasted like cheerios and Ethan thought they tasted like puffed rice- that not being good or bad- just very much like rice.
Mateys boast that there is no high fructose corn syrup in the product and that it somehow provides 12 vitamins and minerals (which I don't see how that is possible).  There is no identification of what the marshmallows are, I'm guessing some fish and a random flower of some sort. In comparison to Lucky Charms,  Matey's oat cereal had larger, puffier pieces but only one shape, Ethan seemed disappointed when he noted "it's all anchors". The texture is a bit different not just with the puffier pieces but we felt that it seemed "gritter" and I thought the cereal tasted very "oaty".
Wrap up:
While there are subtle differences, I feel like Marshmallow Mateys could definitely pass for Lucky Charms in a pinch if you're an amateur like me.  To a fan, they would probably notice the texture and ricey taste besides being well versed in the various shapes.

 Loading ...