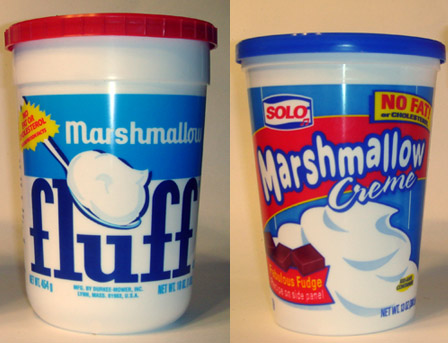 Marshmallow Fuff was created some 75 years ago here in Massachusetts.  I'm guessing that's why people here are so loyal to it.  You'll find a container in most kitchens around here but I ever noticed if it's popular outside of New England.  I had never even seen a competing brand until I went to my local discount store and saw this "Marshmallow Creme".  Both have fudge recipes on the back.  I should probably try sometime but today we tried it just straight out of the container. 
Fluff: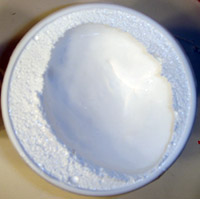 Fluff has pretty thick consistency.   We did also make "Fluffernutters" (peanut butter and fluff sandwiches) and this stuff really grips onto the knife, bread, peanut butter, face etc..  I can't imagine what it must be like at the factory cleaning the equipment.
Even though it's thick, it's smooth and does  provide a creamy texture against the coarseness of peanut butter (we like chunky PB – Teddie's is the best but I'll save that for another post). The flavor is mild but has just enough vanilla to give it a marshmallow-ey taste.
Creme: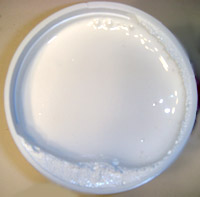 Marshmallow Creme had a somewhat lighter consistency and was easier to spread because of that.   It also seemed a little "slick" in texture which reminded me of plastic.
The flavor was interesting because we expected it to taste like Fluff, and it did taste like marshmallow but instead of a pure vanilla flavor it tasted like what we can only describe as the little marshmallows that are in cereals like Lucky Charms and such.  It was actually kind of interesting to taste that flavor in this smooth format instead of dry little crunchy things in milk.
Wrap up:
I wasn't crazy about either but Ethan preferred the Fluff.  I guess I'd say I liked the flavor of Fluff better but found the Glue-like consistency to be too much.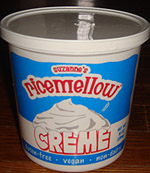 I didn't feel this qualified to compare since it has such different ingredients, but my all time favorite is Suzanne's Ricemellow Creme.  This is made with brown rice syrup and is super light and fluffy.  It's kind of between fluff and whipped creme. It's awesome and I highly recommend trying it. 


 Loading ...