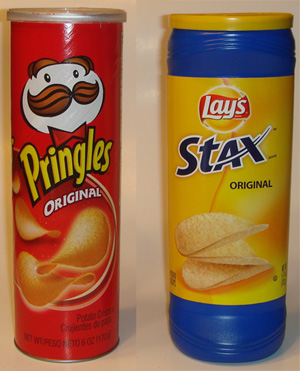 Pringles totally had the market cornered on stackable deydrated-potato chips until Lays came out with Stax in 2003.  I never had Stax, I never see people eating Stax but I guess I don't see people walking around with canisters of Pringles either.
Also, I'd like to note that when I went to my local grocery store to get some Stax, I couldn't find them and asked the guy stocking the shelves in the snack section where they were and he told me "Those are discontinued…you can't get them anymore."   I was heartbroken, the one time I wanted to eat these and they were discontinued??  We ended up finding these randomly at a KMart in New Hampshire and I thought we hit the Stax jackpot, but since them I have seen them in some other places so I'm not sure if they're discontinued or that guy just didn't know what he was talking about.
Okay, first you get the flavor….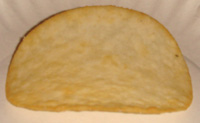 Pringles have a light, crisp, delicate body, that provides a lovely crunch. The salt-to-chip ratio is good and they have almost a buttery flavor.
Ethan described them as being the "essence of a chip".
Stax: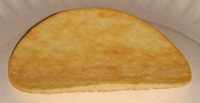 Stacks were noticeably thicker and didn't shatter as easily when bit as did the Pringles.  Ethan said these were more like a "real" chip.  The thickness is like 2, maybe 3 Pringles and the taste is somewhat bland.  The amount of salt did seem balanced for the chip though.
Wrap up:
While I can appreciate Lay's effort, I think Pringles has the upper hand with it's leaf-like thinness and I think because of that, it provides more satisfaction when crunching into one.  The Stax almost seemed too thick.  Instead of a nice crisp "crunch",  Stax had a dull "crack" when biting into it, and no butter-like flavor.


 Loading ...