I was at a rest stop somewhere on the Oregon/California border and saw these Red Velvet Twinkie-like creme cakes and thought they'd be interesting to try.
I brought them back to my sister's house and she, my brother-in-law, Ethan and I gave them a try.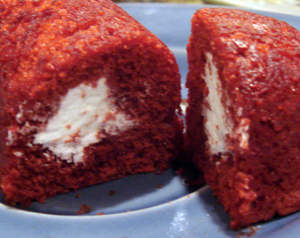 So…not so interesting.  These cakes were pretty tasteless. Zac, my brother-in-law described them as too airy and that t was like they tried to use as little flour as possible.  You'd think that would result in a nice, fluffy cake but they definitely lacked some sort of substance.  These crumbled very easily and were hard to enjoy.  We all agreed these were a disappointment – too bad I thought i stumbled upon a little treasure.


 Loading ...