I don't have much of an intro for this one except that we used to get Brown and Serve sausage on occasion and I remember it being okay.  I also remember it being Swift Premium Brown'N Serve but it looks like Banquet has taken over.  Too bad because I liked the old box better but I guess I didn't buy it enough to even notice they got bought out by Banquet, or who ever owns Banquet.
Brown'N Serve:


I actually lost my notes on this whole evaluation but I do remember we bough thought this was okay.  The thing about these are that they have a kind of spongy texture, which is a little weird at first they tasted decent enough to accept it as just a characteristic of super processed meat.  They do have a generous amount of fat in them too, which almost spills out when bit into.
Sizzle & Serve: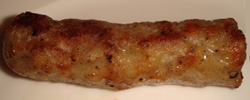 These seemed even spongier but less flavor.  Ethan said if he tasted this blindfolded that he might not even know what it was.  I felt like it wasn't that bad but definitely not as flavorful as the Brown'N Serve.
Wrap up:
Brown'N Serve wins with us but I think it'll be another few years before I have these again. There is just so much grease to really feel okay about eating all the time.


 Loading ...