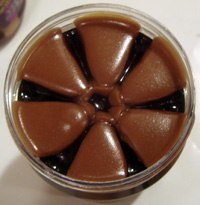 As I wander the isles of supermarkets, I look for future post material.  Fudge Stripes have always been on the "to do" list and I forget what was the potential SNS I had lined up was but when I was in a shady mini-mart and saw Robert's "Fudge Striped" cookies, they made it to the top of the list.
Fudge Stripes: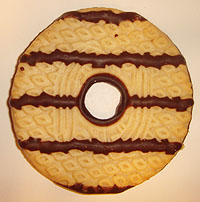 We started off with the name brand thinking it would be awesome.  These cookies are not amazing.  I can see them being popular in gradeschool classrooms or something but found these to be a bit dry and tasteless.  The "fudge" is some sort of platicy, tasteless drizzle with a coating on the bottom.   They do have a fair crunch so I'd say what this has going for it is texture over taste.  Ethan said these tasted like a crunchy, dry fudgesicle.
Fudge Striped: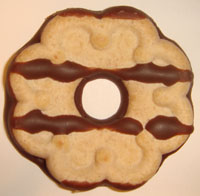 The same non-chocolatey chocolate stripes the top and covers the bottom.
The cookie is even dryer or crunchier, however you want to look at it and somehow even more tasteless.  Although Ethan said this tastes like the stick of a fudgesicle, and it actually did.  So perhaps it gets points for tasting like something(?)
Wrap up:
Tie.  Both are very bland and use plasticy chocolate.  If you're looking to save money, go with Robert's Fudge Striped because you won't be missing and intense flavor or favorable texture experience.  I think Girl Scouts sell a similar cookie but I'm not sure.  I will definitely check out the offering next time someone from work brings their daughter in to guilt me into buy a few boxes.


 Loading ...