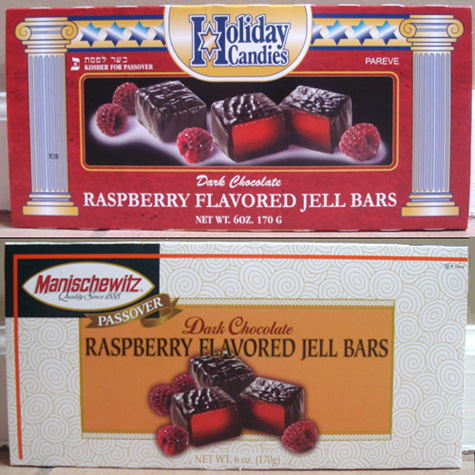 It's that time of year again where I think some of the worst in Jewish cuisine surfaces. Don't get me wrong, I have fond memories of sitting at the kid's table with a bowl of Aunt Maureen's matzo ball soup and my cousins and I trying to polish off the Concord Grape wine during the seemingly endless Seder, but some of the most bland, flavorless and confusing food/products come out for this holiday too. Tasteless packaged macaroons, mixes that produce space-station quality muffins and brownies, soup nuts, and these things- raspberry jell squares. I actually like the jell rings but could only find one brand so I got these jell squares. Helping with this evaluation was my brother-in-law Rick, Ethan, and my mom. My little sister refused to partake.
Holiday Candies: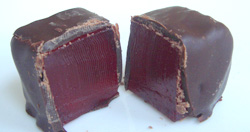 The chocolate shell seemed to barely hang on to the jell square, which turned out to be a good thing because it gives you the option of eating just the chocolate. We all found the jell to be pretty sick. While there was a raspberry flavor, the texture was as Rick said "f'd up". Unlike what you think jell should do when you bite into it, it crumbled when chewed and it was like eating something you weren't supposed to, like maybe it was toy food from a playset.
Manischewitz: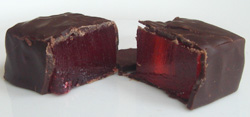 These had a thinner chocolate coating and barely more edible jell but it pretty much got the same reviews from everyone. I can't understand what goes wrong with the jell, I really dont' remember the jell in the ring form of these being so plasticy in texture. The flavor again is just okay but not worth the calories.

Wrap up:
Gross and gross. We agreed that the only good thing with these are that the chocolate coating easily separates and is therefore useful as a chocolate fix at the end of the night and you don't feel like eating unleavened brownies. After the evaluation, we all couldn't get over how dissapointing these were and my little sister just shook her head and said "That's why I don't eat those things!"


 Loading ...