When you can't get to Grandma's house for a fresh baked apple pie don't worry, there are a variety of options that are… nothing like a real homemade apple pie, but these brands have taken a swing at a portable, single serving of something they like to call pie. Finding people to try these was more of a challenge then I thought it would be. Ethan wasn't interested, so I brought them to work and figured this guy who always has a Mountain Dew at his desk would be up for the challenge. Somehow he was freaked out by these though. So was our intern when I asked her. Finally, the IT guy and a project assistant came through, and so the tasting began…
Hostess:


The crust on these were pretty thick, so was the filling. We felt it had a consistency of "goo" and it was very sweet, almost too sweet. Dave thought it at least smelled like apples. The sugary glaze was okay but seemed unbalanced with the overwhelming sweetness from the filling inside. There was some apple flavor, it wasn't as disgusting as we thought it would be and might be good for someone who like things really sweet.
Drake's:


This was the only pie that came as two separate pieces. Right away we noticed that the crust on this was harder and had no flavor. Becca thought the filling was "tangy" in some way but we all agreed that the apple bits were little pieces of dehydrated apple preserved in the thickened corn syrup.
Entenmann's: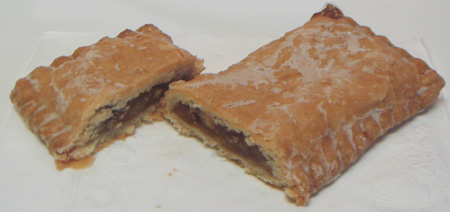 We liked the color of this – which is not shown properly in this photo – it was a nice golden brown. The filling wasn't too goopy and was actually flavorful. It clearly had a good amount of apple pie spices and a nice filling-to-crust ratio. The crust itself was good, and glazed with a light coating of sugar. Also worth noting was that this the only pie of the four we tasted that listed "apples" as its first ingredient.
Little Debbie:


This was shaped like the hostess pie and looked okay on the outside, and even on the inside, but we were unimpressed with its taste. The crust was passable, but the filling had no taste at all and we felt like were just eating flavorless corn syrup with fake apple bits.
Wrap up:
Entenmann's stood out from the rest. Its decent crust and flavorful filling most resembled apple pie, and the cinnamon smell/taste really contributed to the win. We wondered if the others had added more cinnamon or other spices if they would have been better. Little Debbie is O for 2 so far but I have faith in her since her Swiss Rolls are so awesome – maybe devil food cake (and nutty bars) are her specialty.  So the results are: Entenmann's on top, followed by Hostess, and then kind of a tie between Drake's and Little Deb for being the worst.


 Loading ...