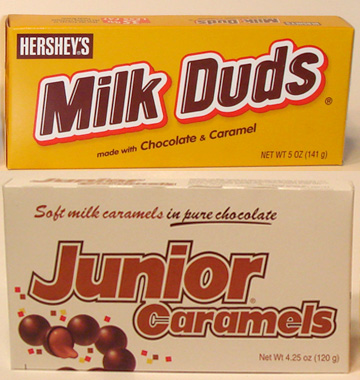 Milk Duds have been around since 1928, I'm not sure when Junior Caramels came out but I think was only in the last few years.  I always have a thing about caramel because it always sticks to my teeth and I never find it enjoyable to be picking it out.  I tried these with the hope that I just had a few bad experiences with caramel and have been unnecessarily avoiding it.
 
Milk Duds:

Ethan and I first noticed these had no smell.  The second thing was the hardness of these little nuggets when bit into.  They had very little give and the chocolate was pretty tasteless.  The caramel was my worst nightmare (as far as caramel goes) it was hard and viciously stuck to my teeth like superglue.  I asked Ethan what he thought of the caramel flavor and he said he couldn't taste it because he was too busy trying to get ot out of his teeth.  At one point I was actually afraid the dud was going to steal one of my teeth – it was definitely an effort to "enjoy" these.  I will say though, that through the fear I think I tasted some good caramel flavor.
Junior Caramels: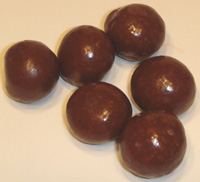 These were round instead of flat and also didn't smell like anything but the huge difference was that they were very soft and such a welcome contrast to Milk Duds.  The chocolate had slightly more taste although it may have masked the flavor of the caramel which was slightly sticky but again, it was such a relief not to be fighting with it, that it was much more acceptable.
Wrap up:
Milk Duds are appropriately named.  I had a range of emotions that started with curiosity and ended with fear.  I really thought I was going to lose a tooth and it was a battle from the first bite.   Even Ethan, who is not as carmelphob as I am, said he never wants to eat a Milk Dud again.  Junior Caramels were not 100% perfect but it makes such a difference to be welcomed with a soft chew instead of a tar-like vortex.


 Loading ...