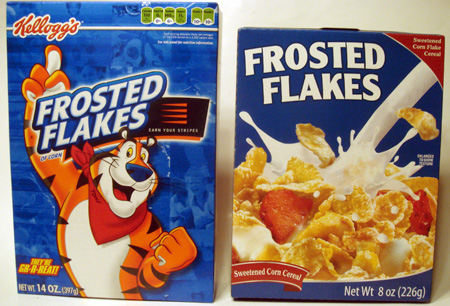 Frosted Flakes were always a treat when I was a kid. my sisters and I were only allowed sugar cereal only on certain occasions like birthdays and camping (my parents would get the variety pack of little cereal boxes).
I was in the dollar store and found another Frosted Flakes and was baffled by the lack of brand.  It's like no one makes it.  The only thing it said is who it's distributed by and that it's a product of Argentina.  The front and back of the box are exactly the same too.
Kellogg's: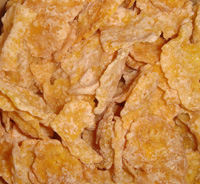 Kellogg's are nice big flakes that look appealing (as far as flaked cereal goes).  Ethan and I agreed these provided a nice, satisfying crunch.  The sweetness was just right even though it looks like there is a lot of frosting.  There wasn't too much to much to say about these but it was because they delivered so well. 
No Name: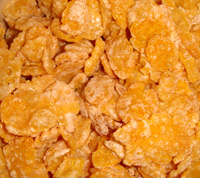 The first thing we noticed were how much smaller the flakes were.  A slightly different hue but visually seemed to have just as much frosting.  We both found these flakes to be harder and more dense.   Also, with all that frosting we were surprised they really weren't that sweet and there was nothing to mask the slight cigarettey aftertaste that made me wonder what the factory working conditions were like.
Wrap up:
You'd think "how can you really screw up frosted flakes?" but they seem to have figured out how at this nameless cereal factory in Argentina.  Maybe our first hint should have been that there was no cartoon mascot on the front (as every proper kids' cereal should have).  No name didn't have the light crispy crunch that Kellog's had.  That, plus the lack of sweetness and cigarette aftertaste just..didn't cut it and left Kellogg's the preferred FF.


 Loading ...