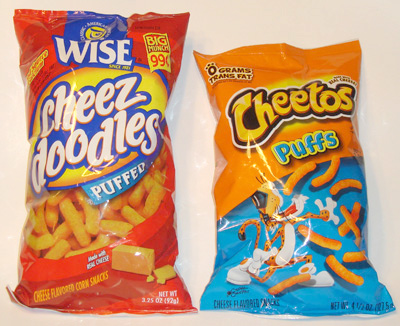 Personally, I like cheese-powder covered corn puffs as the little ball shaped treats that Planters used to make that came in a canister.  Lately I've only  been able to find the ball version from the "Utz" brand so I just went with these products.  But if anyone  knows of another brand of cheese balls (sold in New England or if you could send me some from the outside) feel free to let me know.
Cheez Doodle:


These had a very cheesy smell when we opened the bag, which is always nice – especially when the product claims to be made with real cheese.  It's worth noting though that the scent of cheese was stronger than the actual taste of cheese.   The Doodle had a satisfying crunch and a light and airy texture.  One of the most important features in a product like this is "meltability" which is when the puff nicely compresses as the tongue smooshes it against the roof of the mouth.  Ethan and I both agreed it excelled in meltability.
Cheetos Puffs:


These did not have as strong a cheese scent when we opened the bag.  The outside texture is somewhat crustier but the over all taste is slightly buttery, which is always a welcomed flavor ?  The cheese flavor was okay, I think slightly better because of the butter undertone but other than that, not much different.  These were also more dense than Doodles and that did have an effect on it's meltability – they were harder to compress in the mouth.
Wrap up:
I'd give it to Cheeze Doodles for it's meltability, which is what I look forward to with these types of treats, but if you don't care about that then you might be more inclined to go with Cheetos for the slightly better flavor.  Ethan thought both where fine but was a fan of the Planter's version so neither was a replacement for that.  In case anyone is wondering, I will conduct a re-match in the future with Cheez Doodles and Jax.


 Loading ...