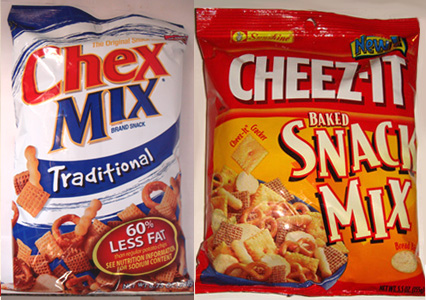 I forgot Chex mix was something people used to make by heating up Chex cereal with other…crunchy items, I forget what exactly, but a quick web search shows ingredients vary.  I never had ever had Chex Mix before.  I'm not sure how I missed out on this American classic but this was good time to see what all the hub-bub was about and compare it to it's Cheez-it counter part.
Chex Mix: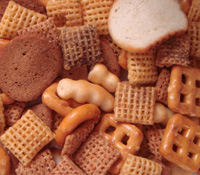 An attractive blend of Chex cereal, mini-melba toasts, square grid and round pretzels and little "bread sticks".  We noticed that there seemed to be a hierarchy of these ingredients.  The best part is the Chex squares which had a great toasty flavor and a satisfying crunch.  Next best were the pretzels, then the bread sticks and last were the melba toasts which we found to be a little too hard.  Overall, it had a nice flavor and a good balance of ingredients.
Cheez-It Snack Mix: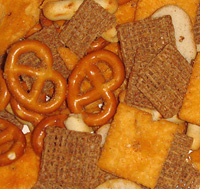 I had high hopes for Cheez-it Snack Mix because Cheez-its are one of my all time favorite foods, but I was really surprised by this.  The "seasoning" (flavor powder) was really strong and tart, like maybe the powder used on sour cream and onion chips which totally overpowered and compromised the flavor of the Cheez-it.   Ethan said it tasted like they poured vinegar all over it.  The mock Chex squares had a flat, dull crunch and were lacking the toasty taste real chex had.  The one thing we did like were the mini-melba toast which were light and crisp but that wasn't enough to reverse the overall disappointment of this product.
Wrap up:
Chex mate!  The Chex Mix was the winner of this match, it had a great combination, just the right amount of seasoning and the feature ingredient really shined.
The Cheez-it mix seems like it's masking the star of the show by overloading it with sour tasting seasoning.  Their rip-off chex seem bland and stale, and it just leaves me wanting good ol' plain Cheez-its.
I do want to add that one guy at work thought there was nothing wrong with the flavor of the Cheez-it Mix so it may just be an aquired taste.


 Loading ...