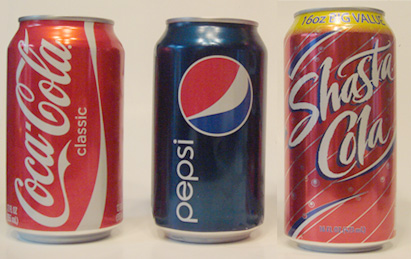 I was walking out of the dollar store with my little purchase and heard the cashier say to the next customer behind me, "Shatsa, huh?".  I stopped in my tracks and pivoted to turn back towards the drink section.
I thought Shasta was long gone but it may be a regional think like Mellow Yellow.
I bought my 4-pack of Shasta and stopped at a mini-mart on the way home for a Coke and a Pepsi for evaluation.
Coke: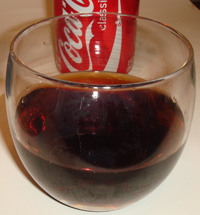 As I probably have mentioned before, Ethan is a huge Coke fan and I'm a Pepsi girl, somehow we are happily married, but I knew we would both probably be biased so no big surprise that Ethan enjoyed the Coke and stated it's a "good, solid cola".  Although he finds that Coke in a can has some sort of faint aftertaste that is not present in bottled Coke.  I think Coke is good, I'm not one of those people that act like their world is turned upside down when a server asks them "is Coke okay?".  It's a decent cola product.
 
Pepsi: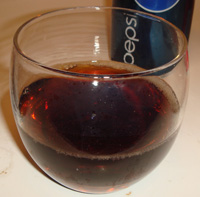 Without thinking about the name I actually thought "this has extra 'pep' to it".  Ethan thinks Pepsi is a "semi-tone higher pitch" than Coke.  Seems slightly sweeter too.  There is just something about Pepsi this is subtly more interesting. I don't know what it is but I just like it.
Shasta: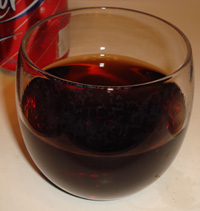 Shasta was surprisingly watery compared to the previous two.  The cola flavor was much less intense and was a little soapy or something.  We kept trying to find adjectives for this but it was just so void of flavor and substance that we just kept looking at each other and srugging our shoulders.
Wrap up:
Coke and Pepsi definitely are more substantial colas.  After that I think it just depends on your blood type or something which one appeals to you more.  Shasta unfortunately was not the treasure I was hoping it would be and because of it's flavor deficiency, we agreed it was the second rate version of the two better known colas.


 Loading ...