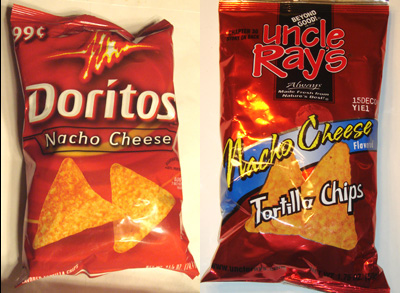 I never noticed Uncle Ray products until I started this blog, but he likes to take a swing at popular products like Doritos so I thought we'd compare these two.  One of the first things I noticed was the similarities in package design with a red background and two chips.  Uncle Ray's backside (wait, what?) tells a tale of some sort of life lesson.  On the back of this bag was Chapter 30, a story of how he still feels guilty about eating some peaches from a neighbor's tree when he was 10, and gives advice on demonstrating self-control.  Anyway, both of these are of the Nacho Cheese variety.
Dorito: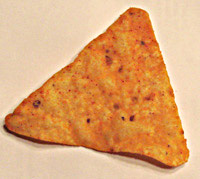 Between 4 of us tasting these we agreed that Doritos have a nice roasted corn flavor and good crunch.  There was just enough flavor on the chip and we found there was a nice mild tang to to the cheese.
Uncle Ray's: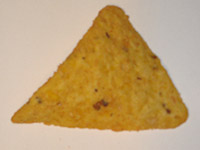 We noticed these were paler than Doritos and had less flavor.  They also seemed very dry and overbaked.  Someone said these were like "toasted cardboard" and smelled like "dry catfood", which after hearing, Ethan couldn't get out of his head because it actually did.
Wrap up:
Some things are worth the extra 30¢ and Doritos is one of them.  The difference was clear.  I never thought of Doritos as a high-quality product but compared to Uncle Ray's, they really are.  I will give Uncie Raysome credit though for having a more interesting bag by including one in a series of life lessons and giving you something to ponder while eating "toasted cardboard".


 Loading ...