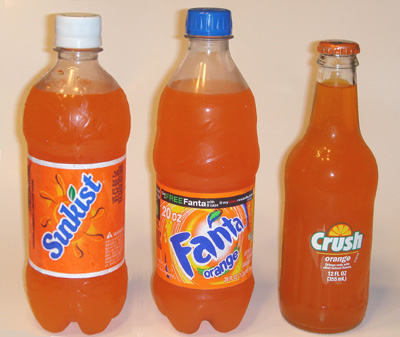 Orange soda, to me it has a kind of mystique- I don't know anyone who exclusively drinks orange soda, most people like it yet it seems to be more of a novelty beverage.  Although, I must just not know the right people because orange soda  is sold at every gas station, mini-mart and grocery store so obviously it's popular with someone.  Crush was actually a little hard to find and I could only find it in glass bottle but there's nothing wrong with that.  My friends Mark and Sarah sat in for this round, lending their expert tastebuds to evaluate and ponder these drinks of orangey carbonation.
Sunkist: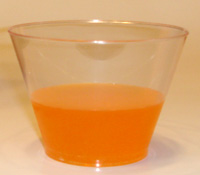 Right away Mark noticed the strong ultra-sweet orange smell, like orange candy (which it is) and found it to be very pleasant.  Sarah felt it had a slightly weird after-taste, we realised it was because of the rosin, actually listed as "ester of wood rosin".  It actually wasn't bad though but after we read the label it seemed to taste even more "rosiny".  We also thought it had the deepest orange color.
Fanta: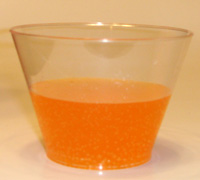 Fanta had the same strong orange smell.  We found it to be the more fizzy and sweeter than Sunkist.  It seemed more artificial and somewhat flatter in flavor.
Crush: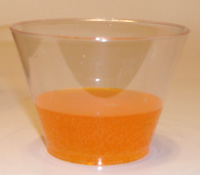 Crush had lighter smell but we found it to be overwhelmingly sweet.  We all agreed this was the most artificial of the three and Ethan described it as "water from a pool".  This lacked any real flavor and was not enjoyable at all.
 
Wrap up:
We started out thinking these would all taste pretty much the same but it was interesting to find such clear differences.  Sunkist was the most favorable, even with the wood rosin, maybe that's the secret ingredient that makes this drink the most appealing.   Fanta was the runner up, a bit more tart and corn syrupy but still had a decent orange flavor.  We thought Crush would be the best but were surprised that we couldn't finish our little tasting cups.  Maybe it had to do with Ethan comparing it to "pool water", whatever that means but it made sense at the time. We all felt that it lacked orange taste and was way to sweet.  Although, for what it's worth, I think it has the best logo.


 Loading ...