Ethan is a devoted Pizza Rolls fan.  Every now and then we get a free trial membership to BJ's and during those times there is always a giant box of Pizza Rolls in our freezer.   I found these equivalent Pizza Bites at a discount supermarket in Woonsocket, RI.
Pizza Bites:

The inside of these were kind of weird to me.  It was a thick goop of oregano-flavor.  It didn't taste like sauce and it didn't taste like cheese.  I had actually forgot these were supposed to be pepperoni flavor.  Ethan and I both thought the dough tasted like cardboard.  Ethan also added that these did not taste like pizza (hard to believe!)
Pizza Rolls: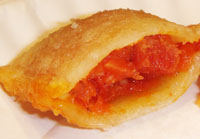 The filling in these actually tasted like tomato and cheese. There were even little chunks of pepperoni (or what was supposed to be pepperoni).  the dough was thinner and not as cardboardy.   While these weren't awesome Ethan said they "almost" taste like pizza, which is better than not at all, like Pizza Bites.
Wrap up:
It's not a big surprise that Ethan preferred the Pizza Rolls.  I noticed that he didn't seem blown away by them for this evaluation but does really likes these, so I feel like these are supposed to be enjoyable but not really satisfy like a real pizza.
I would pick the pizza rolls because of it's actual taste of sauce and cheese while pizza bites are just bland and tasteless except for oregano.


 Loading ...