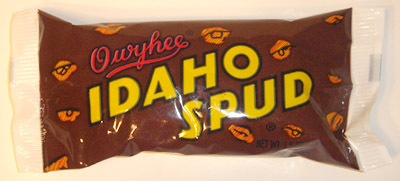 I really don't know much about these except that they're made by the Owyhee Candy Co.  in Boise. I disovered them while visiting my sister in Oregon and brought one home for Ethan and I to evaluate.
Evaluation: It's kind of ironic that I'm watching Caddy Shack while I write this because when I took the spud out of the wrapper I immediately thought of the scene where a Baby Ruth bar falls into the pool and Spaulding yells "DOOTIE!"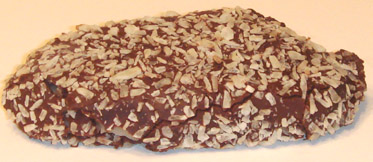 The outside of these are chocolate with coconut flakes. The inside is an…odd, firm, bouncy blob of something that seems like it should be marshmallow but isn't.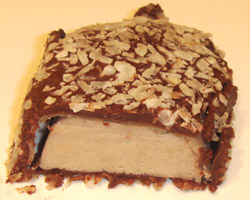 I looked at the ingredients and they say it contains "agar agar" which is a seaweed-based gelatin.  I can appreciate that hooves (or whatever gelatin is usually made of) aren't used, but the texture of the blob wasn't pleasant.  Ethan noted that it also had a very coffee-like taste, which seemed mismatched with the chocolate and coconut.
Wrap up: It just seems like something is off. Ethan couldn't even finish his half. I finished mine but I think it was just out of curiosity because I like chocolate and coconut, but was trying to pinpoint how this gelatinous/pasty/coffee center really threw off that flavor combo.  I have to say though that Idaho Spuds do have a strong following. They even have their own fan club listed on the Owyhee site which features recipes people made up from melting these down. I wouldn't go so far as to say the Spud is disgusting, but it's definitely something I am glad there's only one of.


 Loading ...