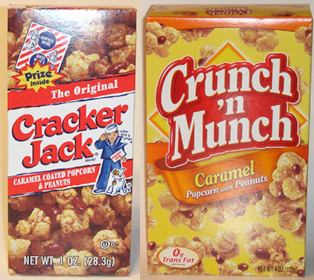 Both of these are caramel-coated popcorn with peanuts.  Cracker Jack was introduced in 1893 and Crunch 'n Munch came out in the 1960's.  My only experience with either of these was Cracker Jack at a friend's house once when I was a kid, but that was it.   I don't know why I never really got into the candy-coated popcorn thing, but this blog has got me to try things I don't usually eat and I was looking forward to finding out why this concept has survived from the Victorian era.  Ethan helped me out with this evaluation.
Cracker Jack: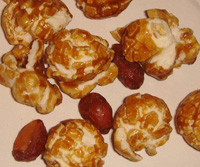 The popcorn was covered with a coating of medium/dark brown caramel that was kind of like shellac, but in a good way that provided a hard shell that crunched nicely against the fluffyness of the popcorn.  There was an enjoyable contrast between the caramel and peanuts and it had an overall toasty quality.  I thought it was lot better than expected, we both gave this the thumbs up.
Crunch 'n Munch: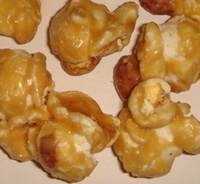 The first thing we noticed was the color, this was much lighter and a shade of yellow.  Also, the caramel was considerably thicker.  The taste was much different with it's strong buttery flavor.  Another difference is that was popcorn was fluffier and the peanuts were "glued" onto the popcorn pieces with the coating.  Ethan liked this and I did at first but found the flavor so strong that it was a little overwhelming after a few handfuls.
Wrap up:
We both liked each of these, but I continued eating the Cracker Jack and Ethan finished the Crunch 'n Munch.  In a related note I'd like to point out those who haven't had Cracker Jack in a while, that the prizes are lame and just a peice paper.  My "prize" was a team fact about the Chicago White Sox.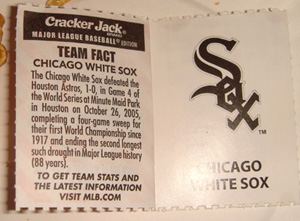 I know, what would a 34 year old do with a paper owl whistle or an olympic action card, but at least it's something more than a "fact" you can just google on a Major League baseball team.  I might actually be persuaded to buy another box if there was some sort of trinket or collectable in there, but not a piece of paper – maybe if they upgrade the text to the meaning of life or winning lottery numbers I'd reconsider.  But never mind me, what about the children!?!

 Loading ...