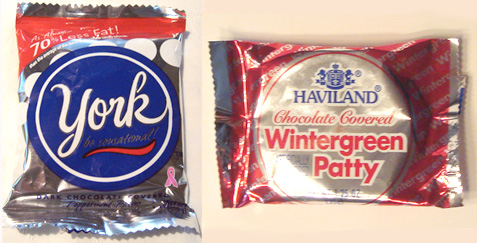 York Peppermint Patty is one of the best treats around, mint + chocolate= mmm, MM!  The Peter Paul Co. was gobbled up by Hershey and these are now produced by them.  One of my all time favorite treats in the 80's was the York Peppermint ice cream sticks which have since been discontinued.  I don't know much about Haviland except that they were gobbled by NECCO and I believe NECCO has since been gobbled by someone else. I'm telling you, I can't keep up with all the buyouts in the food industry, but it's been disturbing to me the more I discover.
Peppermint Patty: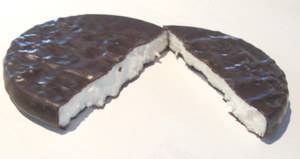 This has a nice firm center that makes a pretty clean break wether breaking in half or biting into.  The peppermint center is just sweet enough to compliment the cool peppermint.  The balanced coating of dark chocolate adds a little sophistication and decadence. I like to eat these by taking a little bite and kind of swishing it around in my mouth to disintegrate it and let the flavors merge.  Ethan is more straightforward and just bites into it and chews like a normal person.
Wintergreen Patty: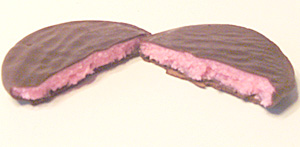 Breaking these in half we were greeted with a bright pink center which had the same consistency as York's.  The chocolate on this seemed to be of a lesser quality and I guess was kind of dark but it was like a mix between milk and dark.  There was not a lot of chocolate flavor in the coating.  The center was not favorable at all, wintergreen does not seem to work well at all.  We summed this up as tasting like chocolate covered toothpaste.
Wrap up:
We really tried to not let our familiarity with Peppermint Patty influence this evaluation and maybe it did but when I bought the Wintergreen Patty I was thinking "Would this be passable if I wanted a Peppermint Patty?" It's still chocolate and mint right?  But we really think this kind of mint and this kind of chocolate do not produce the same winning combination.  I'm curious if anyone had known wintergreen first and felt the same way about peppermint.  Any wintergreen fans out there?


 Loading ...