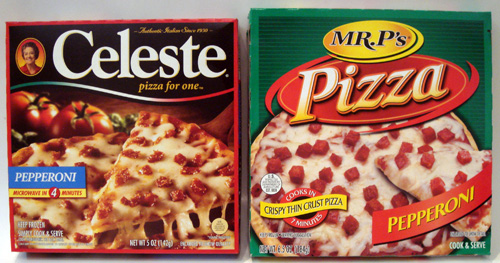 Pizza seems like a hard thing to mess up: dough, sauce, cheese – maybe a topping or two. But as we all know pizza CAN be messed up and the chances of this is greater when you're buying a pre-made, frozen pizza.
My experience with frozen pizza started and stopped with Mama Celeste and the last time I had that was as an after school snack with my sister so…it's been a while. I will do an evaluation at some point with a couple of the next generation like DiGiorno to see how frozen pizza has evolved but today we're kickin' it old school.
Mama Celeste: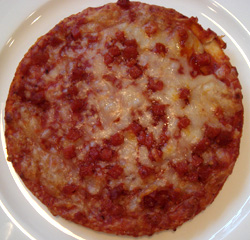 This doesn't look like anything any mama would make, never mind the sweet old lady on the package. Ethan and I found this to be pretty tasteless. I felt the only ingredient that had any flavor was the pepperoni. Ethan was more disappointed by the lacking crust.
As unimpressive as this was we did both agree that the distribution of ingredients were well balanced and I have to admit, I did like that it smelled like the pizza at rollerskating rinks, which brought back fond memories of skating around with feathered hair and playing video games, which was worth the $1.20 for the pizza.
Mr. P: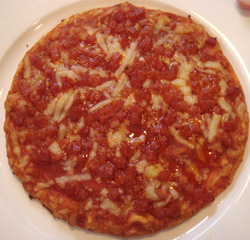 For all that Mama Celeste isn't, Mr. P is less. Ethan found the dough kind of gummy, even though we cooked it according to the directions. The entire thing just lacked flavor all over and didn't have enough cheese, although I'm not sure of that would have improved the product. No wonder he doesn't show his picture like Mama does.
Wrap up:
Mama wins by a shred. It's funny though how bland we thought that was and then after we tried Mr. P, we ate another slice of Mama's just to leave this evaluation tasting some sort of flavor. But really, I think it'll be another 20 years until I have Mama Celeste again, I don't care how bad the recession gets!


 Loading ...