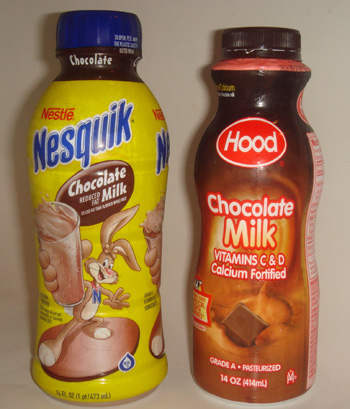 Chocolate milk was always a treat growing up.  Not that we weren't allowed to drink it but it's just so good that no mater when I had it, I always savored it.   I always just made it at home and rarely found the same satisfaction when I bought it in a bottle.  It's been awhile for either home-made or bottle so we compared a national big boy brand with the beloved Hood brand of New England.
Nesquik: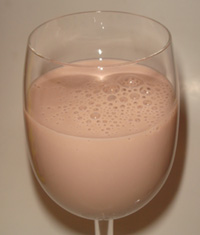 Nesquik had a great chocolatey aroma which I was hoping hinted at the intensity of chocolate flavor.
For me the just tasted like milk with a hint of chocolate.  Ethan felt it wasn't lacking any favor and enjoyed it.  I thought this had an artificial taste to it but Ethan didn't think it was bad.  There was just something off about the consistency to me, like I could tell it was made from powder even if I didn't already know it was.
Hood: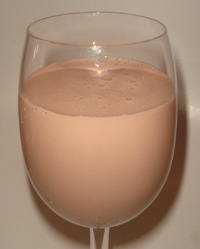 Hood didn't have a sweet chocolate smell like Nesquik did but we both found the taste was a more sincere chocolate flavor.    Ethan said it tasted like when you ignore the suggested amount of powder to add to make chocolate milk and add an extra tablespoon (or two).  I liked that this didn't taste as chemically and would like to think that it was a more pure form of this drink.
Wrap up:
I prefered good ol' Hood for the reasons listed above, although I have to say I feel Hood's expertise is in their ice cream products (I mean, what's better than a Hoodsie eaten with a wooden spoon?) and  wouldn't swear by their chocolate milk as a new favorite.  Although Ethan agreed Nesquik was more artificial tasting he still found something appealing about it.  He liked both in their own way and said it would depend on his mood as to which one he would buy again. 


 Loading ...