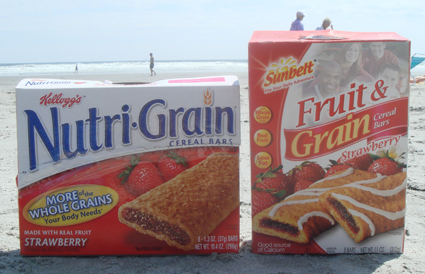 A few days ago we went to the beach with my sister (Steph) and her family. As you may have notice (maybe not) Steph usually opts out of any taste testing but this time she said she'd partake. Her husband Rick is a fan of junkfood and always up for an evaluation, we also got their 3 1/2 year old son Kyle to help too.
Nutri-Grain: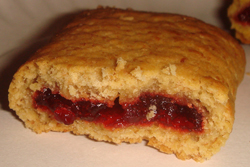 These have a grainy texture which at least gives you the illusion you're eating something mildly healthy. I felt like there was a slight chemical taste to them. Rick and Ethan said they were a little dry but really liked the fruit filling. Steph changed her mind didn't try these saying she knew she liked the other brand better. We asked Kyle if he liked these and he just nodded his head.
Fruit & Grain: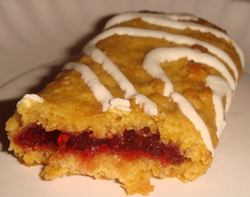 Fruit & Grain was slightly different because of the swirled icing on top. I didn't really notice much taste from that but Steph said that's why she likes these bars better. She also said she likes how moist they are. We all agreed they were more moist but to me the extreme softness seemed "un-natural" like it was a doughnut or something. There was also a checmical taste to these like with the Nutri-Grain.
When asked, Kyle said he didn't like it but ate the whole bar.
Wrap up:
Ethan and I liked the Nutri-Grain bar better for it's texture and tastier fruit filling. Rick liked the texture of the Fruit & Grain bar better but preferred the fruit filling of Nutri-Grain. Stephs stand by Fruit & Grain even without trying the other one and Kyle kept changing his mind I think just because he liked being asked questions, but he did eat both bars.


 Loading ...