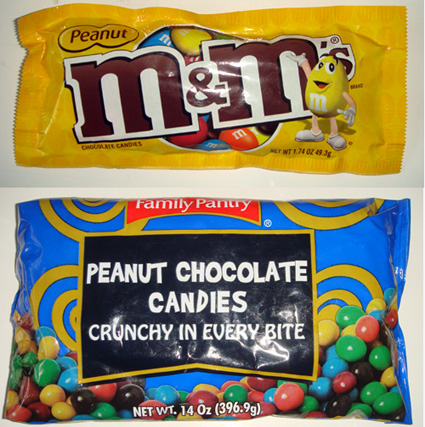 I like m&m's, never was a huge fan of the peanut variety but these did give me a little extra staying power getting through the third hour (what we called the power hour) of Hebrew school so for that I found them useful.
I think there are a few different similar candies but I found the Family Pantry version on this particular day roaming Family Dollar.
Ethan is a big fan of Peanut m&m's so I'd rely on his expertise in this evaluation.

m&m's: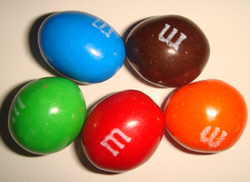 These had a nice shine and vibrant color. They also feature the pleasant trademark lowercase "m" on each piece. The chocolate is pretty good for milk chocolate, it's a very reliable chocolate that seems to be consistent with every other bag of m&m's I've ever had. Ethan felt the peanut flavor takes over a little but because they're so good.
Peanut Chocolate Candies: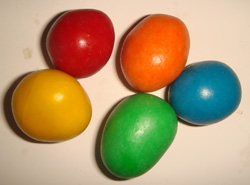 These had similar colors but had a duller sheen. The shell was harder and seemed to crumble which revealed a weird "mocolate" that lacked a real chocolate flavor. The peanuts were okay as far as flavor but seemed harder than the m&m peanuts.
Wrap up:
We have to go with m&m's for the better tasting chocolate and softer peanuts. The Family Pantry version was just okay but I think if you're going to buy one of these you might enjoy the better quality chocolate because I question how the Family Pantry makes their chocolate to not really taste like chocolate.


 Loading ...