I'll try to summarize what I found out about these:  Basically, Ring Dings were first, Ding Dongs were second but were originally called King Dongs, then King Dons, then Big Wheels.  Now they're Ding Dongs but as I've mentioned in a previous post, I can't keep up with companies buying each other.  In the end, Hostess bought Drakes but you can read all the sorted details in this Wiki entry.
Ring Dings: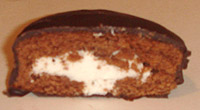 I don't know when they stopped wrapping Ring Dings individually in foil but they are paired in cellophane now.   The cake was slightly dry but soft and the creme was good; moist and with just enough vanilla flavor.  The outer chocolate coating was ok, not all that chocolaty in taste, but like chocolate it started to melt a little if held too long.
Ding Dongs: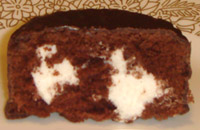 Ding Dongs are noticeably taller than Ring dings.  I cut open a couple of these and neither of them had a continuous creme center, they seemed to be injected in two areas.  Ethan found the creme to be plasticy and we both thought the chocolate coating was wax-like and stuck to our teeth.  The cake was flavorless and dry.

Wrap up:
Bigger isn't always better.  We weren't impressed with Ding Dongs, the whole product seemed tasteless in every way.  When he was done tasting, Ethan just said, "These are pretty bad."  Ring Dings aren't the awesomeness I remember from childhood but they were definitely better than the Ding Dongs.


 Loading ...