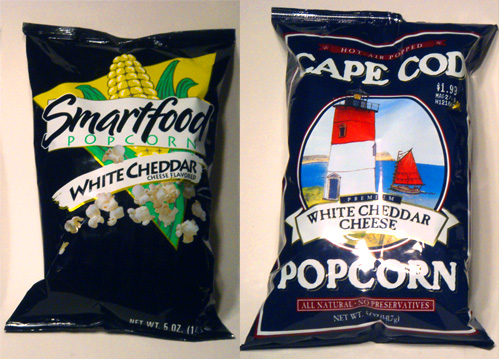 Smartfood was created in the mid-80's and I believe in good ol' Massachusetts.  Before it was bought by Frito-Lay, Ethan pointed out they used to have little facts or something interesting on the back of the bag that he liked reading.  Frito-Lay just talks about how awesome Smartfood is.
I think there are a few different versions of Smartfood but the one closest to it in the store was Cape Cod's White Cheddar Popcorn, so we got that.
Smartfood: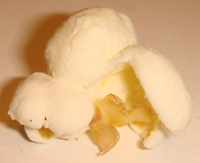 Even  though Frito-Lay has taken over, I think they've done a pretty good job at keeping the consistency of the quality in this product.  I didn't think "This isn't as good as I remember!" as is the case with some products that go through a buy out or even just some companies cheap-out on their ingredients.
The cheddar powder is thick and completely covers the fluffy kernels.  The taste of the cheese has a nice tang to it and conveys a creaminess too.  We noticed the kernels are good sized and almost always round and have a nice softness while still providing a satisfying crunch.
Cape Cod: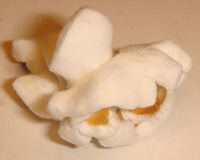 We notcied that Cape Cod's kernels were a little smaller, not as soft and seemed flatter when bitten down on.  The cheese powder was cheesy but not as tangy as Smartfood. Also there was a slight toastiness to the popcorn, not sure if some kernels were overcooked or the cheese powder did not coat the kernels as much. Not bad though.
Wrap up:
We'd go with Smartfood because of the little bit of sharpness in the cheddar flavor and the more substantial kernels.  If Cape Cod is all that's available though, you won't be too disappointed as the subtle differences aren't enough to rule it out as a good product.


 Loading ...