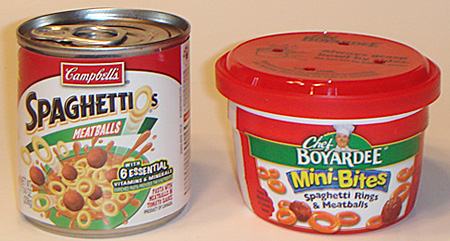 These are a perfect size for a snack, possibly a small "meal"or …side dish?  As I've mentioned before, I've started to notice that companies are buying each other, taking over familiar brands.  Spaghettios, formerly made by Franco American, are now owned by Campbell's (who also powns Pepperidge Farm, Prego, Pace and Swanson).  Not that it's a snack, but I thought it was semi-interesting that the only product Campbell's still allows the Franco American label on is their jarred gravy.  In this evaluation we had the help of our friends Sara and Mark.  I could only find an equivalent from Chef Boyardee with meatballs so that's why we tested the meatball variety.
Spaghettios: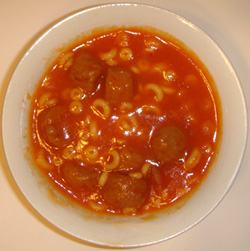 Sara noted that the pasta had no flavor and seemed just be there for texture in the sauce.  On that note, we didn't feel the sauce had that much flavor either although it was pretty sweet, not exactly like ketchup, but similar.  It was also kind of soupy.  We noticed that the meatballs were squishy and tasteless.  Not the worst thing in the world, but it was just ok.
Chef B's Spaghetti Rings: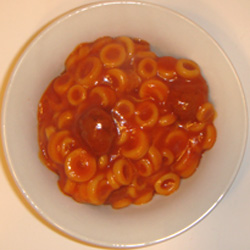 The first thing we noticed was that the sauce was much thicker.  The meatballs were firm and had more flavor than the Spaghettios.  Mark pointed out the sauce had a much stronger tomato taste and I thought maybe they put  more tomato paste in it to give it flavor and thickness.  The pasta was a little chewy but held on to the thick sauce nicely. 
Wrap up:
Hats off to the chef.  Both of these were pretty much what we expected, but the "heartiness" of Spaghetti Rings gave it the edge over the soupy and bland Spaghettios.  I thought maybe Chef B made a better product because his menu is more expansive with such notable dishes as "Beefaroni", "Lasagna" and "ABC's & 123's" but I guess they're all the same thing in different shapes.


 Loading ...