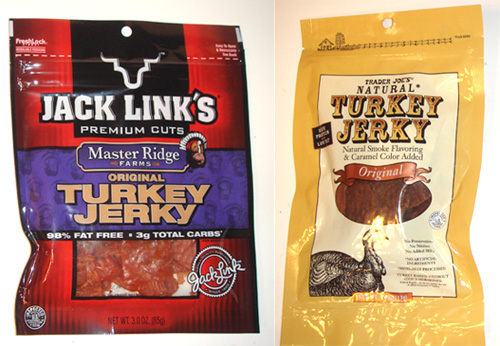 Finding a Thanksgiving related snack wasn't easy.  I saw Jack Links Turkey Jerky at Target but had trouble finding a competitor.  Ethan was such a good sport and drove us around to 4 mini-marts, a gas station and a drug store before finding some at Trader Joe's.  I did find some other interesting brands of beef jerky but that will be for a beef jerky re-match.
Jack Links:

I liked the light color of this and we both thought it smelled good; smokey and meaty.  Chewing it was another thing.  There were a few pieces that were softer but most were hard and plasticy.  Ethan didn't mind as much and liked it's "zesty" taste.  Like with Jack's Beef Jerky, the texture was enough to make me not like this.
 
Trader Joe's: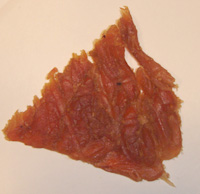 This was darker and didn't have as strong of a smell as Jack's but the texture was much better.  We both felt the chew on this was way more enjoyable.  I liked the subtle flavor and the simple ingredients list and that the turkey has no added hormones, nitrates or preservatives.  I felt that the simplicity of the product and ingredients really came though as a more pure tasting product.  That being said, Ethan said they tasted "old".
Wrap up:
I guess Trader Joe's wins because I would choose it over Jack Links any time.  The tough plasticy texture of Jack's is just to much and the flavor was too peppery for me.  Ethan said it would depend on his mood if he had to choose between these two. He liked the flavor of Jack's better but preferred the softness of Joe's.
I would have been interested in trying a third party to see if Trader Joe's is unique with their texture.  If I find another Turkey I'll post an update.
Happy Thanksgiving!


 Loading ...