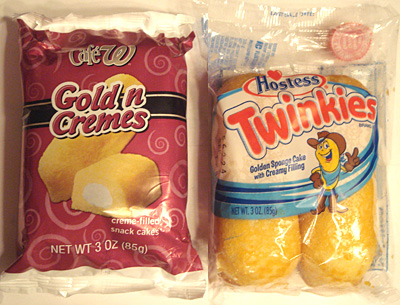 I found these Twinkie rip-offs called Gold n' Cremes at Walgreen's, who has their own brand of food products called "Cafe W".  My friends Sara and Marc helped out with this evaluation.  This was the dessert of our "taste test dinner" which I actually do not recommend. An evening of eating ONLY packaged food is too much.  Towards the end of the night, I found my heart racing and felt pretty ill.  But we made it through the Twinkies and the results are as follows:
Gold n' Cremes: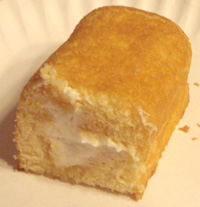 These had a sweet smell and Marc described them as "Eastery", I asked him to elaborate and he said they were malty.   The cake was spongy but firm, maybe just a teeny bit dry but not too bad.  The creme was light and airy and had a nice hint of vanilla.  Sara described it as tasting like marshmallow.  In all, this wasn't too bad and we all agreed this was very similar to a Twinkie.
Twinkies: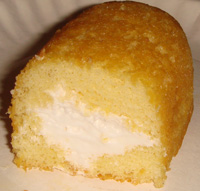 These had a very strong, sweet smell that seemed to be waiting to jump out of the wrapper.  The cake was denser and the exterior is kind of greasy.  We noticed the filling was heavier than Gold n' Creme's and was almost gluey in comparison.  With the intensity of the smell, cake and filling, Marc said these seemed like they were made more for kids than for adults.
 
Wrap up:
I would say if you were craving a Twinkie and all you had available was a Gold n' Creme, you would not be disappointed.  The basic elements/flavors are all there, and people like us who don't eat these on a regular basis probably wouldn't even notice the difference.  I will say though for Twinkie loyalists, there are enough differences in cake and creme density that if you're used to Twinkies, you'll notice the lighter textures of Gold n' Cremes.


 Loading ...