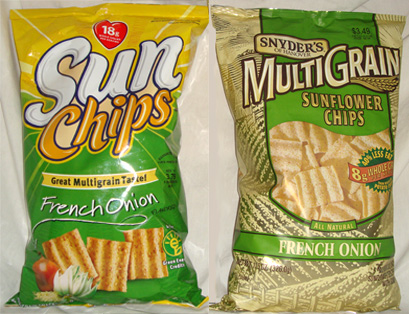 We usually go through cycles of having Sun Chips in the house; two bags in the house for while and then none for months.  Like some relationships in life, sometimes you just need a break and then you find a re-kindled appreciation for it.  Chips, people, it's all the same.
Ethan likes to say Sun Chips are "healthy" because the commercial says their factory runs on solar energy.  Wow, it's like eating a piece of the sun!
Snyder's is from PA but I had a hard time finding these in Boston (although we have plenty of their pretzels) and found them on the west coast.  So I'm not sure of their availability.
Sun Chips: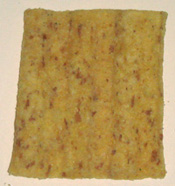 Ethan thought these had a nice density to them and described them as having an "honest crunch".   He also thought these had a nice tang.  There is something "earthy" about these, which is good when you're in the mood.  I like the crunch of these but the taste is just okay.  I thought it was kind of interesting that these had more fiber, but also more sugar and fat.
Snyder's: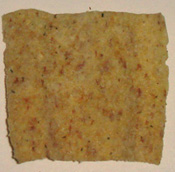 You can't tell from the picture but these were a little smaller than Sun Chips.  Ethan thought they smelled weird and that the crunch was disappointing.  These lacked "substance" and were very airy like Muncho's.  Ethan thought they had a bland, vague flavor.  I liked the subtleness of the flavor and the delicate texture.
Wrap up :
Different but the same.  These both fit the bill of crunchy, grainy chips with flavor powder on them. Ethan continues to prefer Sun Chips but I liked Snyder's for the lighter texture and smaller size.  Although we preferred opposite chips, I don't think we'd refuse the other if that's all that was around because they're still very similar.


 Loading ...