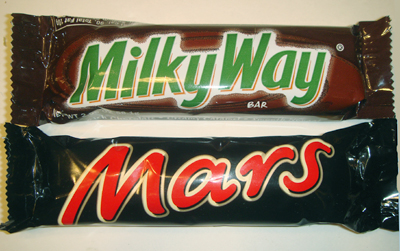 Of course I didn't realise Mars owns Milky Way until after I bought these but when I'm in the store and I see something worthy of comparison I just buy it and look it up when I get home.  Besides, there's a reason a company produces similar products, and since this blog is about figuring out which one may be the better purchase, we went ahead with the evaluation.   For those who may not know, Milky Way and Mars are fluffy nougat topped with caramel and then coated in chocolate.  Mars is basically the European version of Milky Way and can easily be found in the British food section of any Stop & Shop here in New England, and I would bet it's worth a shot looking for it in any major super market around the country.
Milky Way: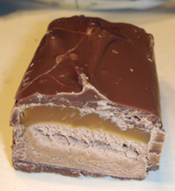 I noted that this smelled very cocoa-ey, which is always nice that chocolate smells like chocolate.  This was more dense than I remember it being and I'm not sure if I liked that so much.   Ethan thought the flavor was good and didn't mind the density and said after it warms up in your mouth for a little bit it's ok.  We both thought the chocolate coating was a bit hard but the nougat-caramel-chocolate ratio was proportioned correctly.
Mars: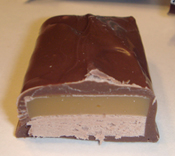 I liked this because it had a cleaner cut, which I know doesn't matter for taste but it appealed to me somehow.  I also liked that this was a softer bar.  The chocolate, caramel and nougat yielded to the bite very nicely and didn't have that heaviness that Milky Way has.
Ethan felt there was a "nutty" flavor in this that he didn't really care for and for that reason he didn't like it as much
Wrap up:
I would take Mars over Milky Way anytime because of it's softness and light texture.  Ethan didn't mind the density of Milky Way and wasn't a fan of the nutty flavor he detected in Mars. I didn't taste anything like that in Mars that but I guess we just have different palettes.  SO even though these are both under the same company, they are different enough that one could easily be preferred over the other.


 Loading ...