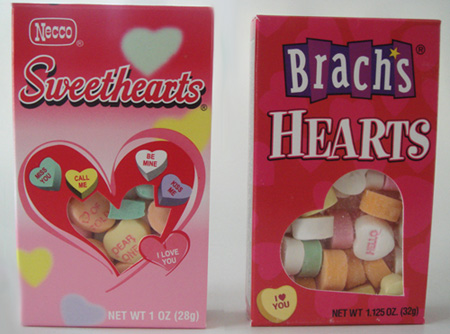 Happy Valentine's day!  To be honest I never got these hearts, they're hard, chalky and a waste of calories.  Being born and raised in Massachusetts, NECCO* (New England Confectionery Company)products are everywhere, including the wafers, which my parents love but I never could appreciate or understand how anyone liked them.  Sweethearts are just a heart version of the wafers but when Isaw Brach's Heart's I just had to compare and see if they did it better. (*NECCO will always have a place in my heart because of the most awesome candy ever: Skybar)
NECCO: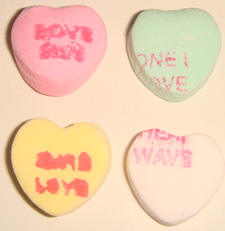 Almost all of the hearts were deformed in some way, either in shape or text.  It was like there was zero quality control on the line, at least the shift that produced this box.  Eating these was just as impressive as looking at them, they're hard and chalky like I remembered.
Ethan and I did note that each color had a flavor and the saving grace was that the flavor for the most part was pretty strong, although keeping the chaulky undertone.
Purple was grape, Orange was orange, Pink was cherry (maybe), Yellow was banana, Green was lime and White was mint.
Brach's: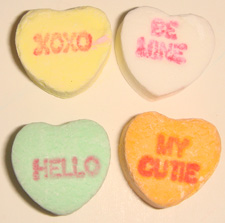 We noticed Brach's were thicker and the text was stamped on.  There were much less deformations in this box too.
Unlike NECCO, all of the colors taste the same, which is a bland and faintly licorice flavor.  The thickness of these hearts make them even harder to break and the experience is a disappointment.
Wrap up:
I guess it depends what you want to use these for.  For presentation purposes, like maybe gluing these to a card,  I'd go with Brach's for their better formation and more consistanly readable text.  For flavor, say in a dimly lit room and your valentine for to wear thier contacts, you'd want at least the flavors found in the NECCO hearts.


 Loading ...