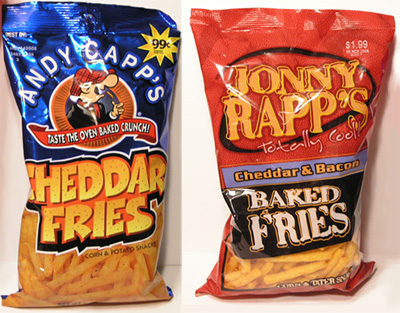 I never got pub fries, they just left me craving real fries but I like the idea making a fry-like snack.  Maybe for those people who want fries but just have a convenience store in walking distance of their house.
I don't understand how Andy Capp, a wife-beating drunk, is associated with fries but some things you just don't bother to question anymore.  What I would like to know is what Johnny Rapp's deal is.  He doesn't have a comic strip and doesn't appear on the package.  We can't see what he looks like, but going by the description "Totally Cool!" on the bag, I picture Johnny as more hip, easy going guy who doesn't wail on his wife if his dinner is cold.
First up, Andy Capp's Cheddar Fries:


For this tasting we had our friends Mark and Sarah help with the evaluation. Mark found the green (parsley?) specks visually pleasant. Sarah found them to not have a lot of cheddar flavor and were a little too salty.  We all agreed they had a nice crunch, similar to a Cheeto.
Johnny Rapp's Cheddar & Bacon Fries:


We found these to be even crunchier than Andy Capp's.  Mark noted they have a strong smokey smell.  We found the cheddar taste to be stronger and sharper.  The bacon flavor was just enough to compliment the cheddar.
Wrap up:
We were surprised to find ourselves enjoying the Johnny Rapp's more than the Andy Capp's.  Johnny's has more flavor and a better crunch -but, Ethan said the flavor gets to be too much after a little while so if you're looking for some short-term snacking with good flavor, Johnny is your man.  If you're looking for something to munch on during a movie, then go with the Andy Capp's.


 Loading ...