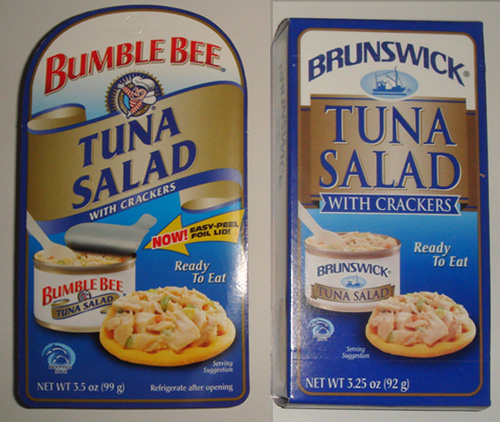 Sooo sorry for the lack of posting. I won't get into the details but things have been crazy but I fully intend on keeping up with the snacks.  My stupid non-snacking life takes over sometimes.
Anyway, I'm not usually a fan of pre-made canned salads, I've seen  other offerings like chicken and ham salad in a can too, maybe even egg, but I hope not.
I have my suspisions that  one of these two owns the other but could be wrong, it just seems to be the trend that eventually one company will make everything. I just thought it was mildly interesting that the color and gradient on the packaging are exactly the same.
Bumble Bee: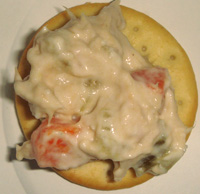 I could get right to the point and just say gross, no more please but I'll use a few more adjectives.  Ethan described this as "soupy" not in the consistency so much (although it applies somewhat) but the taste was like canned soup.  You know that "dead" taste of things that used to be fresh and are transformed into a bland, tasteless, shelf-stable version of it's former self, like canned spinach, asparagus, etc..
I thought I detected some tomato flavor and assumed from the texture and taste those reddish-orange bits were tomoato but they were infact carrot.
Pretty gross all around, didn't taste like tuna so much as mayo and transformed carrot and celery.
Brunswick: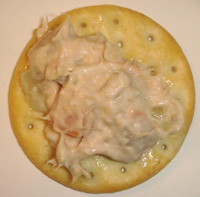 Different but the same.  Very slightly better in the way that this tasted more like "normal" tuna salad.  Same deal with the texture but we found this less offensive enough to not make a face when we ate it. This also had considerably less carrots and no tomato-like taste.
Wrap up:
Brunswick wins for being less disgusting, although not by much.  Needless to say I'm not feeling very good right now and drinking a Tab to hopefully burn away any funkiness going on in my stomach (that's what I'm telling myself).


 Loading ...