It's October and small bowls of candy corn can be found on office desks all over America. Candy corn was always one of the few exceptions of trick or treat harvesting that had some value even though it wasn't chocolate. And it's very shelf stable too- I'm not even sure if it has an expiration date, I'm sure it must but I think water is a bigger enemy of candy corn that time. For some reason it was hard to find a competitor to Brach's for this but we finally found one called Zachary's.
Brach's: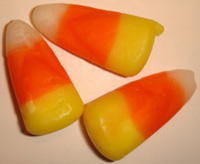 These were firm and had a nice yield to the bite. The flavor is sweet but nicely balanced with a vanilla overtone. At least we think it's vanilla. Ethan said he kind of felt like it was maple but knew it wasn't. We noticed the package said these contain real honey so I'm sure that helped give these their pleasant taste.
Zachary: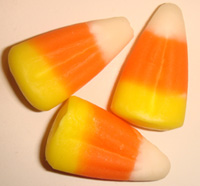 These were a little paler in color and it turned out in taste too. There was a lack of flavor other than just sugar/corn syrup. The texture was pretty good though since it was very similar to Brach's.
Wrap up:
We both agreed that Brach's was more enjoyable than Zachary's. While Zac's wasn't terrible, the absence of any flavor just didn't make the calories seem worthwhile. I never thought much about Brach's candy corn but I have a newfound appreciation for it and feel that they really give other candy makers big kernels to fill to re-create the flavor I used to take for granted.


 Loading ...