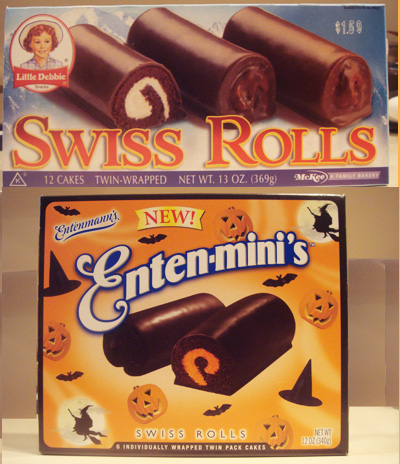 Since I saw these new Entenmann's Swiss Rolls I thought it would be a good idea to test them with the winner of the Swiss Roll/Yodel/HoHo battle: the Swiss Roll.  I thought it was kind of ballsy for Entenmann's to name their product Swiss Roll too but they must be lookin' for a fight with my girl Debbie so we let them duke it out at my sister's house with her, our mom my brother-in-law and my 3.5 year old nephew Kyle (and of course Ethan)
Little Debbie: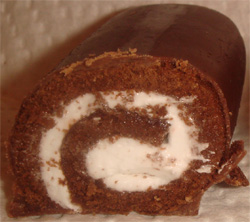 Everyone agreed that these were very sweet and moist.  my brother-in-law Rick really liked the cream. I like the cream and how the chocolate coating stayed on even when cutting or biting into.  Steph said she liked the consistency and mom said she thought it was okay but would like it if it had more chocolate flavor.
Kyle said he lies it because it's good.
Entenmann's: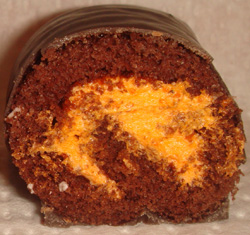 Despite the orange color the creme has the same vanilla flavor as the Little D rolls.  Mom and Rick though these were more moist.  The cream didn't seem as sweet as Debbie's but considering how extremely sweet those were that wasn't abad thing.  Mom liked that these had more chocolate flavor, although we all noted and weren't crazy about how easily the cocolate coating flaked off.
Wrap up:
Both were good but Rick and mom preferred Entenmann's for it's not-too-sweet creme, moistness and chocolate flavor.  Ethan, Steph, Kyle and myself preferred the Little Debbie version for it's stong vanilla flavored cream, moist cake and the chocolate coating staying on the roll.


 Loading ...