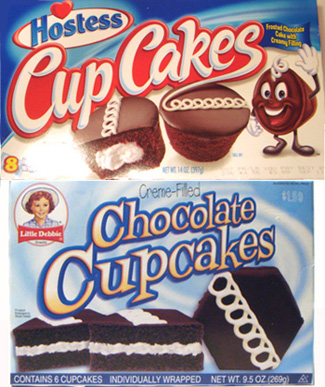 Hostess cupcakes and all Hostess products were banned from our house because as I've mentioned before, my dad thought he was some sort of half-rabbi and didn't allow brands that weren't kosher to be consumed.  This didn't make a lot of sense because we didn't go "all the way" and have separate sets of dishes and get our meat from kosher butchers and so on.  Anyway, one of the few times we were allowed such treats, other than the non-kosher wonderlands of eating at friends' houses, were birthday parties at Roller Rink in Ashland, MA.
 
Besides having an awesome time skating in circles and trying not to be the cause of a pile-up on the rink floor, when it was "birthday time" the DJ would announce your birthday and tell you and your friends to go in the party room where there were plates with pi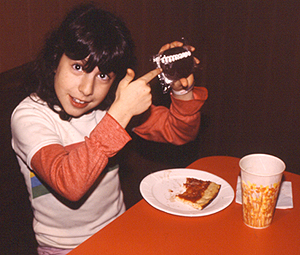 zza and a Hostess cupcake.  My sister and I seriously were excited to be allowed to eat what "normal" kids ate all the time.
I found a picture at one of the Roller Rink parties where I was excited enough to hold up my cupcake in pride, as if I were thinking "See this?  I'm going to eat a forbidden cupcake!"
So that's my history with Hostess Cupcakes.  I want to say Little Debbie didn't have a cupcake at the time because my sister and I were so familiar with her products that we would have got those, but I could be wrong.
Hostess: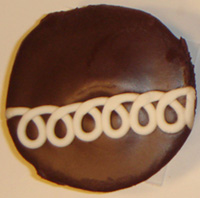 By the way, the last time I ate one of these was probably in the above photo but I expected total awesomeness.  Instead, Ethan and I both found these to be a little dry in the cake area and had a very mild chocolate flavor.  In fact they really didn't taste like anything.  The frosting seemed a kind of waxy and bland and the cream middle had just a hint of vanilla.  Ethan noted there was also a chemical after taste.
Little Debbie: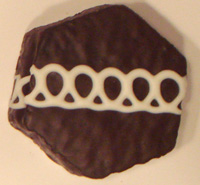 I really like the mimic of the icing loops on the top of the cupcake.  It's enough to associate with Hostess but then the hextagonal form of the cupcake says "I'm my own thing!".  And they were in the way that they actually tasted like chocolate and the cake was moist.  We agreed the cream inside was more enjoyable, as it wasn't as gritty as Hostess.  Also the outer coating wasn't as waxy and tasteless too.
Wrap up:
Little D does it again but only because Hostess was lacking so much flavor.  Neither of these were what I remembered craving so much as a kid and since Ethan wasn't impressed either, I wonder if there has been a change in recipe for Hostess.   Little Debbie seems to have a better formula but still her Swiss Rolls are something I feel are perfected and not so much with her cupcakes.


 Loading ...