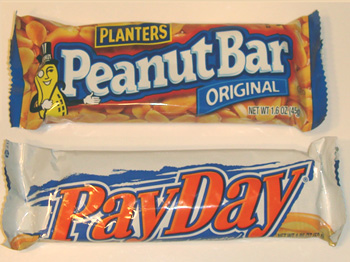 What do you do when you want some peanuts but it's just not convenient to open a jar?  Of course you grab a candy bar that's made of peanuts stuck together with some goop. Okay maybe that wasn't the idea behind these bars, but they certainly would be handy for peanut lovers to eat while swinging on a trapeze or reeling in a Great White or some other task that allows limited use of you hands. I like peanuts just lightly roasted and salted, but never enjoyed them in food. I was thinking maybe these would be good since peanuts are the headliner and just a little sugar (or "binder") would compliment the star of the show and I'd find a new way to enjoy peanuts.
Planters Peanut Bar: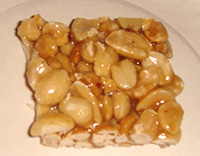 This is a very stiff, hard and brittle bar.  Biting into this was not enjoyable at all.  It felt like I was biting into a candy bar made of teeth, which was pretty gross.  The glaze/peanut binder did not provide any flavor and it seemed like the peanuts themselves didn't taste like anything either.   Ethan said he'd rather just eat some peanuts from a jar.
Pay Day: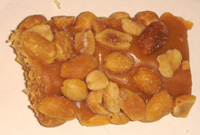 The binder in Pay Day is more like a soft caramel. In that way the texture was much different but I'm not sure I'd say it was more appealing.  The taste wasn't much better.  We found this to be very salty and between the "flavor" of the binder and the overly generous amount of salt, neither of us could finish it.
Wrap up:
No and no.  Planter's "teeth bar" is totally bland and gross, and Pay Day is a soft, tasteless putty with the mis-matched texture/taste of peanuts. Even splitting these bars, we couldn't finish them.  Obviously people must like them (and nothing against these people) or they wouldn't be on the candy shelves, but I guess these just aren't our thing, at all.


 Loading ...