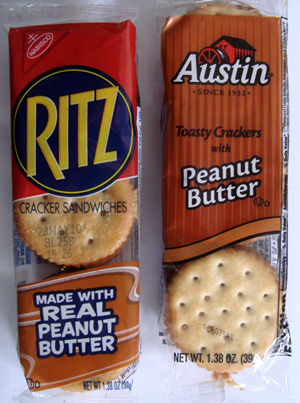 Peanut butter crackers are a pretty good idea, a little carb, a little protein, sugar, salt and -voila, snack. Not the best snack in the world. I've only had these out of desperation at the vending machine but they do seem to do the trick.
Come to think of it, I should keep, a packet of these in my glove box. That packet of ketchup that's in there now probably won't do much for me if I were stranded.
Anyway, let's get on to the snacking…
Ritz: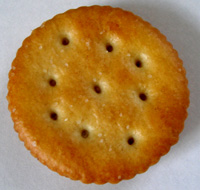 These smell more peanut buttery than they taste. The crackers are really good, they have just the right amount of salt and they have that reliable Ritz buttery taste. In fact, I didn't really taste the peanut butter that much but we both found these enjoyable as the crackers are so good.
Austin: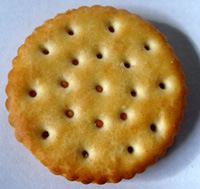 Very bland crackers with no salt. I really felt like I was eating a hardened water and flour combination with something in the middle that wasn't necessarily peanut butter. We both ate another Ritz after these to end the evaluation on a better note. These are probably okay if there's nothing else around and they're not being compared to a more flavorful cracker, but they're definitely not our first choice if we bought something like these again.
Wrap up:
Ritz, even though the peanut butter wasn't very pronounced. They do what they do so well that they crackers make up for the lack of pb flavor.
Austin's crackers were bland enough to not make them worth eating- although like I said, it might be because we were eating them right after the Cadillac of crackers.


 Loading ...