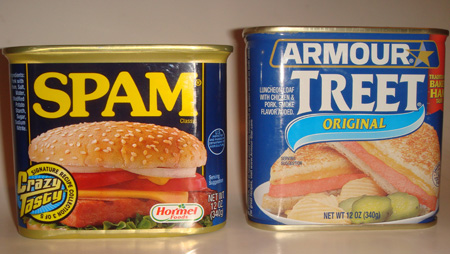 I really had to mentally prep before doing this, which meant voiding any thought of the processing plants for either of these products. I know SPAM has it's fans and I can appreciate that, but to me it's always been this nightmareish conglomerate of meats that isn't really meant for eating so I had never even tried it. Today I saw the Armour product TREET and so it became the day to try SPAM and TREET.
Ethan was less than enthusiastic when I brought these beauties home but being the ever-faithful taste tester, he joined me in this canned meat adventure.
SPAM: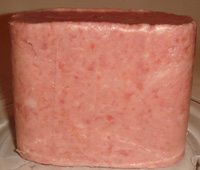 Pretty sick, a rubbery mold of smushed meat that is able to stand upright on it's own. Another blow to the senses was the canned cat food aroma. In fact, Clyde (our cat) magically appeared in the kitchen thinking he was getting fed.
Time to taste: I first noticed how salty this was, very salty although Ethan didn't think it was that salty. It has a very "porky" flavor. Ethan was most turned off by the texture and said it was too mushy and that his tongue didn't want to touch this. We gave Clyde some, he ate a teeny bit and then walked away.
TREET: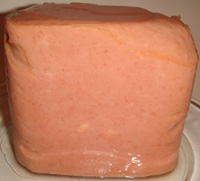 Same unappetizing effort just to get out of the can. This was a little darker and more uniform in color but had some disturbing fat globules dispersed throughout the "loaf".
The taste was less offensive to me because it was more recognizable and similar to cold cut bologna. Ethan described this as "beefy" (which I agreed with) but again, was mostly turned off by the texture which he said was "spongy".
Wrap up:
No and no. We both can't imagine trying either of these ever again. Like I said, I know some people swear by SPAM and maybe it's a whole different ballgame in a sandwich or in macaroni and cheese (as suggested on the back of the can) but meat in this format is not for everyone.


 Loading ...