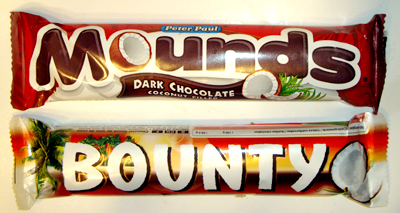 Mounds, so good, slightly exotic and one of the few "Peter Paul" (now owned by Hersheymonster) candy bars.  It's such a great combination of ingredients I'm surprised it hasn't been copied more.  I like Almond Joy but I'm a dark chocolate girl and Mounds has always been one of my favorites.  Bounty is a Mars (not yet bought by Hershey) product and like Mounds, also comes as a two-piece candy bar.  I've seen Bounty before but Ethan wasn't familiar with it.  I'll say it's because he grew up in New Hampshire and the Bounty truck didn't bother delivering to the woods.
Mounds: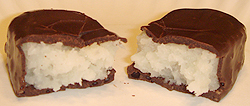 These have a nice soft bite to them.  The chocolate provides a firm shell around a soft, moist coconut mixture that is just sweet enough without going overboard.    The chocolate flavor is smooth and rich which is the right amount to not overpower the taste of the coconut.
Bounty: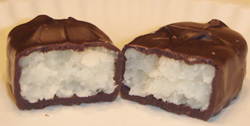 Biting into these, it was clear that the coconut was drier.  The flavor of the coconut was okay but the dry texture didn't seem to smush with the chocolate so well.  The chocolate looked better than Mounds but did not have as much flavor.  To be fair, I will say after it was in my mouth for a bit some flavor came through but it wasn't as pronounced as Mounds.
Wrap up:
Mounds takes this match.  Ethan and I liked the moist texture of the inside and I really thought the quality of chocolate was better.  Bounty wasn't terrible but the coconut was dry enough to cost it some points (if I used a point system) and for the fact that the chocolate only surrendered it flavor if you kept it in your mouth for a bit and worked it.  Not a bad substitute for Mounds but I can see why they're not as common.


 Loading ...