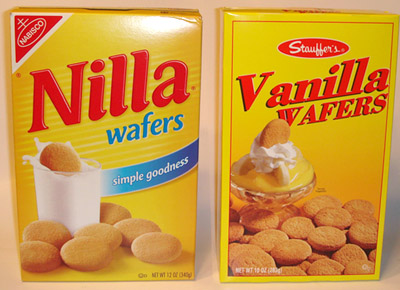 From looking at these boxes, I imagine the package designer for Stauffer's is a disgruntled former Nabisco worker who vowed his revenge by fooling pre-occupied shoppers into grabbing Vanilla instead of Nilla wafers.  "Not creative enough, huh?  I'll show them!"    Just a thought : )
It's been at least 20 years since I've had a Nilla wafer and never had a knock off, but when I saw the Vanilla wafers at Job Lot, I couldn't resist leaving them on the shelf.  This evaluation involved myself and Ethan and then I brought them into work where people wrote thier feedback on a piece of paper. 
Nilla Wafer: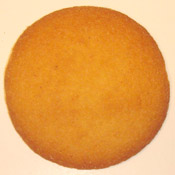 We noted the pleasant vanilla aroma right from opening the bag.  These have a soft crunch and a couple of co-workers noted that these "melt in the mouth".  These were a little too delicate for dunking but I liked to take a bite and drink some milk and let it dissolve that way.  One co-worker described these as "too soft".  It seemed everyone agreed that these had very good vanilla flavor which Ethan said was "very inoffensive" (?)   Another comment from work was "You think of Nilla when you think of wafers!"
Vanilla Wafer: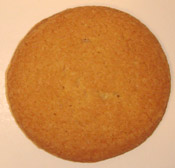 These had a much rougher texture. They felt dryer just by touching them and had a very loud crunch when bitten into and it crumbled into hard pieces.  This cookie did not absorb milk well at all.  The vanilla flavor was too strong and artificial.  Ethan described these wafers as the bottom of a soft serve cone with vanilla ice cream in the grid at the bottom, which is good but does not work as a cookie. 
Some comments from co-workers were that these were stale tasting (although the date on the box said it was good for another 6 months) too hard, too crunchy, too rough.  The same person who wrote the Nilla Wafers were "too soft" wrote that these were "crunchy and good".
Wrap up:
Nilla Wafers were the clear winner.  It won people over with it's subtle texture and mild flavor.  The Stauffer's version was too rough and dry with a poor quality vanilla flavor so it just didn't have a lot going for it.  Although they did have one fan at work.
I've scanned the feedback sheet because I know I left some comments out, but if interested you can read for yourself by clicking here.


 Loading ...