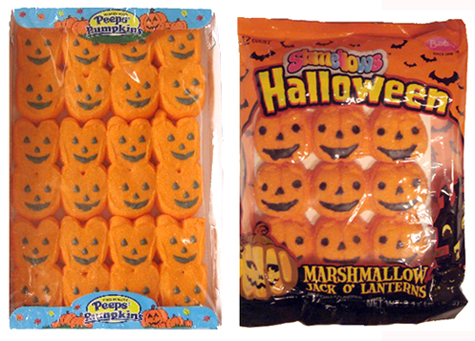 I know, it's a little over 2 weeks past Halloween but I was at a dollar store today and saw some pumpkin Peeps, I was going to pass on them but then saw a second rate version in the same discount basket.  They had me at "Hallo", but what really sealed the deal was their name, "Shmellows".   Both had freshness dates that were good into 2009 so I felt it was a still a fair evaluation- plus at 25¢ a pop, how could I pass on them?
Peeps: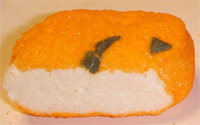 Ethan has not been a fan of Peeps in the past but he thought these were better than what he remembered them tasting like.  He liked how they dissolved and thought they didn't taste too sugary.   I liked the light texture and bounciness of the marshmallow but always find chewing right into sugar crystals a bit too intense.  They seemed to lack any real flavor but Ethan said he liked the subtle marshmallow taste.
Shmallows: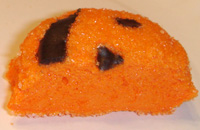 These were more dense with an orange color marshmallow.  I felt that these had a taste that was so familiar but could not put my finger on it.  Ethan thought they had an orangey flavor and that they were like a giant cereal marshmallow, but soft.  I didn't mind these in general but it did bother me that I could not say what they tasted like.
Wrap up:
Ethan preferred the Peeps due to their light texture, mild flavor and said they were "smooth". I am torn between these two because I wasn't crazy about either but like Ethan, found the texture of the Peeps better but was intrigued by the puzzling flavor (that Ethan says was orange but I think it was something else) of Shmallows.   Plus they were shaped more like pumpkins which I think should count for something.


 Loading ...