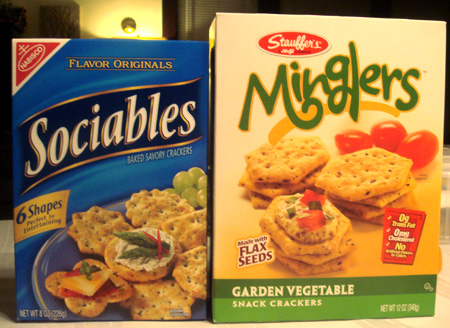 There are a number of products that Stauffer's seems to copy from Nabisco and Minglers seemed to be inspired by Sociables.  I did notice that they don't offer the same flavors but I felt the closest match was garden vegetable to the seasoned flavor of sociables.  Both promote a party environment which would be interesting to conduct an evaluation at a social situation but we just tried these at home.
Sociables: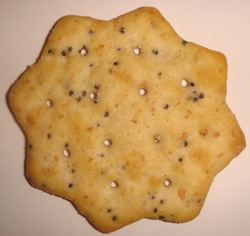 These were kind of bland except for the salt flavor.  We could see the seasoning but Ethan and I felt they tasted similar to Saltines.  We liked the texture though, it was light and sort of flaky.  Overall not a bad cracker.
Minglers: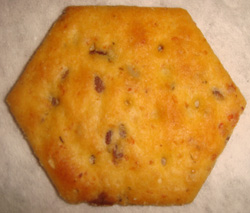 Minglers were a bit toastier looking and much harder in consistency than Sociables.  The taste was a little more flavorful probably from dehydrated vegetable flakes but there was still an absence of any enjoyable flavor.
Wrap up:
Not that we liked them all that much but Sociables win for their flaky texture and mild flavor.  Minglers were too hard and had a weird taste to them.  They weren't bad when used as a vehicle for dip but on their own they were kind of gross…and didn't have the variety of shapes Sociables does, which I think suggests a social atmosphere -a variety of something all hanging out together.  Where as Minglers are just the same shape which might suggest "We only mingle with people who look exactly like us".


 Loading ...