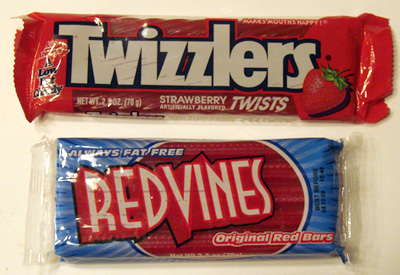 Twizzlers are everywhere but I'm not sure where RedVines are available, I picked these up in Oregon but I don't think I've ever seen them in New England.  Maybe they're a strictly regional thing like Mello Yello (any readers in the South want to send me a can?) I just haven't noticed them in my local stores, so I grabbbed a pack when I saw them (and paid for them). Twizzlers state that they're strawberry flavored while RedVines are I guess…implied strawberry(?)…they're just labeled as "Red Bars".
Twizzlers: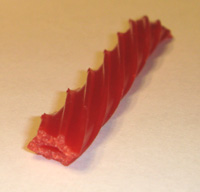 These have a nice smell to them, when unwrapped.  We couldn't really say that they taste like strawberry though. Ethan said they "taste red".  The Twizzlers had a nice firm chew, yet broke down nicely after two bites.  And we liked that they're mild and not overly sweet.  We also thought the diagonal 'tread' added to the enjoyment of this treat and while they looked plasticy, they were nice and soft and we found ourselves really enjoying them.
RedVines: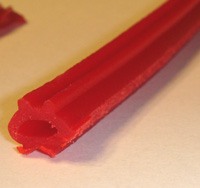 Ethan thought these looked looked like they came out of the Playdo Fun Factory.  The RedVines didn't have a smooth sheen like Twizzlers and were stickier when chewed.  There was also a noticeable difference in flavor: these tasted very artificial. We tried to identify the taste and came up with soap.  Not a fancy berry-vanilla-waterfall-fusion soap, more like a dissolve-puke-on-the-cafeteria-floor-industrial strength cleaner.  These were not enjoyable at all.

Wrap up:
RedVines need not apply.  I can't imagine walking into a store, seeing both of these and not picking Twizzlers.  Red Vines are void of taste and texture, the ONLY saving grace of RedVines might be that they have a bigger hole that could be used as a straw if you really needed a straw.


 Loading ...