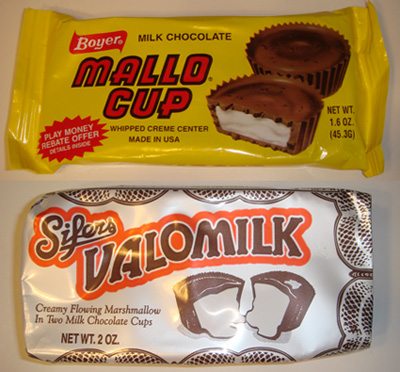 One of my favorite combinations is chocolate and marshmallow.  If you ever see Hershey Ice Cream's Chocolate Marshmallow Whirl, you might want to do yourself a favor and get one because they're fantastic.  I still don't understand how Hershey Ice Cream and Hershey Candy exist without some sort of lawsuit but it must be agreed between them that they can both sell sugar and milk in different capacities.
Anyway, chocolate + marshmallow always = awesome to me so when I saw these two next to each other at the store, I had to bring them home and compare.
Valomilk: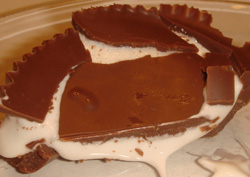 When I tried to get a cross section of this, it pretty much shattered, it doesn't really mean anything but I just wanted to explain  the poor presentation.
The chocolate was okay, nothing great but the marshmallow has some sort of weird "non taste" to it.  Maybe it was a lack of vanilla flavor but it just tastes like gooey sugar not really marshmallow.
Mallow Cup: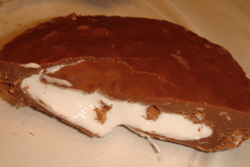 A little more stable when cutting in half, we found the chocolate to be a little better but the marshmallow was still lacking something.  I know technically on the wrapper is reads "whipped creme center", but it really had the consistency of marshmallow and I know some products say "marshmallow creme", so between that and the fact they're called "mallow cup" I'll think marshmallow is what they're going for.  Also, it doesn't state it on the front of the wrapper but there are also small amounts of coconut flakes in the chocolate.  The flavor of the coconut does come through and take over somewhat but considering the marshmallow is so mild, I guess SOME flavor has to be dominant.
Wrap up:
I was surprised that I didn't find myself loving either of these. I felt like I get more satisfaction in the one little section of Sky Bar than I did with a whole cup of either of these.  It definitely had to do with the marshmallow more than the chocolate.  Ethan's evaluation was that was Valomilk was "gross" and Mallocup was "just okay".


 Loading ...